How Former Boss 'Conned' Kenya Power Out of Millions
A Jersey court has revealed details of how former Kenya Power managing director, Samuel Gichuru and former cabinet minister Chris Okemo allegedly hid the loot from ghost power projects, detailing a complex web of foreign companies which allegedly openly paid bribes to Jersey Islands accounts belonging to the two. Court records show that on different dates between 1986 and 2002 Gichuru's company received payments of millions from various companies contracted by Kenya Power. A Nairobi court has granted bail to 14 senior managers accused of abuse of office.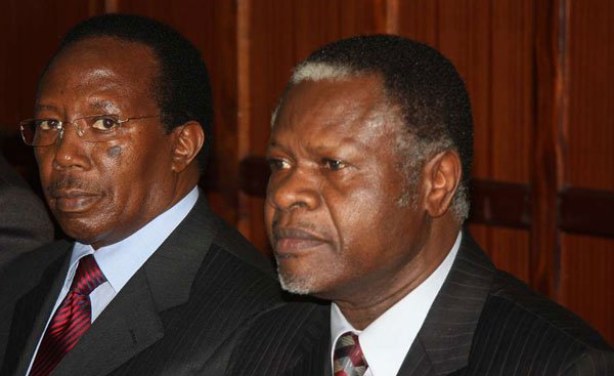 Former Kenya Power and Lighting managing director Samuel Gichuru (left) and former Finance minister Chris Okemo follow proceedings of their extradition case at the High Court on July 11, 2011.
Kenya: Court Releases Kenya Power Managers

Nation, 17 July 2018

A Nairobi court has granted bail to senior Kenya Power managers accused of abuse of office. Read more »

Kenya: Kenya Power Denies Cutting Off Power to Milimani Courts As Its Managers Pleaded Bail

Nairobi News, 17 July 2018

Kenya Power has denied cutting off power supply to Milimani Law Courts on Tuesday morning during the bail hearing for its managers charged with corruption. Read more »

Kenya: Power Blackout Halts Bail Hearing for Kenya Power Managers

Nairobi News, 17 July 2018

Proceedings at the Milimani Court were temporarily halted on Tuesday morning after a power outage at the premise. Read more »

Kenya: City Lawyer Vindicated After Long Battle On Power Bill Fiasco

Nairobi News, 17 July 2018

After leading a relentless fight for openness in electricity billing, Nairobi lawyer Apollo Mboya would be forgiven for feeling vindicated after 20 Kenya Power managers were… Read more »

Kenya: Lawyer Mboya Vindicated in Kenya Power Billing Fiasco

Nation, 17 July 2018

After leading a relentless fight for openness in electricity billing, Nairobi lawyer Apollo Mboya would be forgiven for feeling vindicated after 20 Kenya Power managers were… Read more »

Kenya: Kenya Power Gets Acting MD Amid Charges Over Transformers

Capital FM, 16 July 2018

Engineer Jared Omondi Otieno has been appointed acting Managing Director at Kenya Power after the prosecution of Ken Tarus who headed the organization. Read more »

Kenya: Kenya Power Operations 'Unaffected' By Arrests, Board Says

Nation, 16 July 2018

The board of Kenya Power has assured the country of no disruption in operations at the electricity distributor following arrests of senior managers over irregular supply of… Read more »

Kenya: Kenya Power Assures Uninterrupted Electricity Supply Amidst Arrest of Managers

Capital FM, 16 July 2018

Kenya Power Board of Directors has assured that the ongoing investigations and arrest of senior managers will not affect the operations of the electricity distributor. Read more »

Kenya: Kenya Power Top Officials Deny Graft Charges

Nation, 16 July 2018

Kenya Power Managing Director Ken Tarus, his predecessor Ben Chumo and nine senior managers at the power company were on Monday arraigned at an anti-corruption court in Nairobi. Read more »

Kenya: Top Kenya Power Managers to Spend Night in Police Cell

Nation, 16 July 2018

Senior Kenya Power managers will spend a third night in police custody awaiting ruling on their request to be released on bail. Read more »
InFocus
Fourteen top officials of the Kenya Power including current Managing Director Ken Tarus and his predecessor Ben Chumo are facing charges of fraudulent acquisition of public ... Read more »