What Was Discussed in Weah, Opposition Closed-Door Meeting?
"We have been in office for five months. We have been doing our best. Some may have been negative while some positive. So we have called you here to hear from you on how we all can move our country forward," President George Weah said in his opening statement. But members of the opposition questioned the effectiveness of the forum, saying the government failed to put forward a national development agenda.
Liberia: Govt, Opposition Meeting Ends in Deadlock?

Observer, 17 August 2018

The inability of the Coalition for Democratic Change (CDC) to put forth a national development agenda since its ascendancy may have contributed significantly to stalled progress at… Read more »

Liberia: Let's Advance Ideas to Promote Spirit of National Unity - Weah

NEWS, 17 August 2018

Barely four days after proposing to hold a one-day national forum with opposition political parties, President George Manneh Weah on Thursday met with more than 20 opposition… Read more »

Liberia: Opposition Political Parties Displeased With Interactive Forum With Government

FrontPageAfrica, 17 August 2018

Generally, opposition political parties present at the forum organized by the government for exchange of ideas to drive democracy and development of the country were not pleased… Read more »

Liberia: Weah Meets Opposition Today

New Dawn, 16 August 2018

President George Weah and opposition parties are due to meet here today, 16 August based on the president's request to promote the spirit of national unity and political tolerance… Read more »

Liberia: President Weah Leads By Example - Govt Welcomes Opposition's Views, Suggestions

Govt of Liberia, 16 August 2018

It is a rarity in Africa for sitting Presidents to bring opposition parties around one table in six months of leadership in the cause of unity, reconciliation and political… Read more »

Liberia: Liberia - Government, Opposition Political Parties Meet Behind Closed Door

FrontPageAfrica, 16 August 2018

Journalists covering the meeting between the Government and opposition political parties have been asked by President George Manneh Weah to leave the meeting hall. Read more »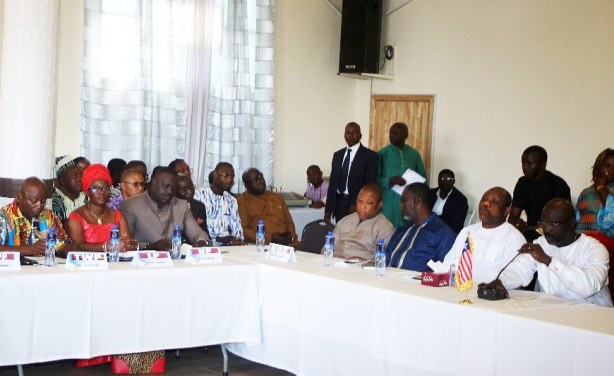 Some of the participants at the Government-Political Parties Consultative Forum.