Chamisa Under Fire Over Jibe Towards Zimbabwe's Coventry
Opposition leader Nelson Chamisa has been blasted for his remarks against the newly appointed Sport Minister Kirsty Coventry, whom he described as a mere "child swimmer" who would not add value to the cabinet - also refering to her as "Mudhidhi" a double entendre for swimmer and rectum in Shona. Zimbabweans took to Twitter, to express their disgust at Chamisa's groundless attack on Coventry, accusing him of being an unrepentant misogynist with a propensity for vulgar language.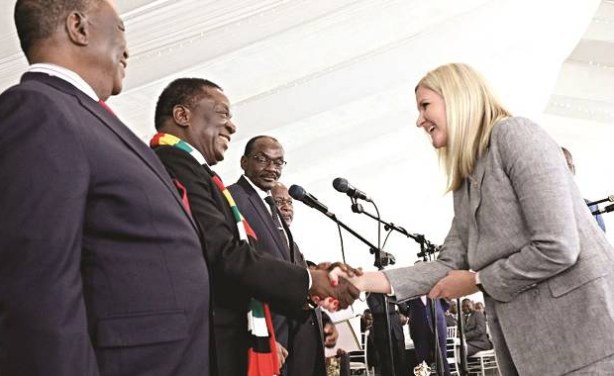 President Emmerson Mnangagwa flanked by Vice Presidents Constantino Chiwenga and Kembo Mohadi congratulates Youth, Sport, Arts and Recreation Minister, Kirsty Coventry, after taking her oath of office at State House.
Zimbabwe: Coventry Excited By Appointment

The Herald, 11 September 2018

Newly-appointed Youth, Sport, Arts and Recreation Minister Kirsty Coventry says she is honoured to be part of the new Cabinet sworn in by President Mnangagwa yesterday at State… Read more »

Zimbabwe: 'Dream Team' Promises Sweeping Changes

The Herald, 11 September 2018

New Cabinet ministers sworn-in yesterday pledged to bring about sweeping changes in Government and ensure Zimbabwe becomes a middle-income economy by 2030. The 20 Cabinet… Read more »

Zimbabwe: Mnangagwa Silences Critics With New Cabinet

The Herald, 10 September 2018

A developmental Cabinet, I would call it. Brilliant balance between old and trusted hands, technocrats and youthfulness. A well thought out Cabinet that balances the competing… Read more »

Zimbabwe: Former Warriors Skipper Chunga Hails Mnangagwa

The Herald, 11 September 2018

Former Zimbabwe captain Moses Chunga believes the appointment of Kirsty Coventry as Minister of Youth, Sport, Arts and Recreation is the best thing ever to happen to the sector.… Read more »

Zimbabwe: Mnangagwa Swears in New Cabinet Ministers

The Herald, 11 September 2018

President Mnangagwa yesterday swore in 20 Cabinet ministers at State House in Harare, setting the tone for serious Government business following the July 30 harmonised elections. Read more »

Zimbabwe: Mutodi Threatens Chamisa

263Chat, 11 September 2018

Newly sworn in deputy minister of Information, Publicity and Broadcasting services, Energy Mutodi has warned the opposition MDC Alliance against their planned inauguration of… Read more »

Zimbabwe: Business Endorses New Cabinet

The Herald, 11 September 2018

Zimbabwe's largest business representative bodies, the Confederation of Zimbabwe Industries (CZI) and Zimbabwe National Chamber of Commerce (ZNCC), have endorsed President… Read more »

Zimbabwe: Female Ministers Hail President Over Appointments

The Herald, 11 September 2018

Newly-appointed female ministers have hailed President Mnangagwa's decision to increase the number of women in Cabinet as a positive development and an affirmation of his… Read more »

Zimbabwe: Chamisa Blasted Over Remarks About Minister Coventry

263Chat, 11 September 2018

Youth associations registered under the Zimbabwe Youth Council have blasted MDC Alliance leader, Nelson Chamisa over what they termed derogatory and sexist remarks aimed at new… Read more »
InFocus
President Emmerson Mnangagwa has announced his cabinet, leaving many surprised and upbeat about the selection of ministers. Mnangagwa faced legal challenges from opposition ... Read more »

President Emmerson Mnangagwa is apparently looking to Britain for a solution to neutralise opposition leader Nelson Chamisa - and it will likely involve a constitutional amendment ... Read more »