Cameroon Anglophone Region a No-Go-Zone?
Thousands of residents have fled to the country's French speaking cities of Douala, Yaoundé, and Bafoussam, during August and September, anticipating more bloodshed before the country's October presidential elections.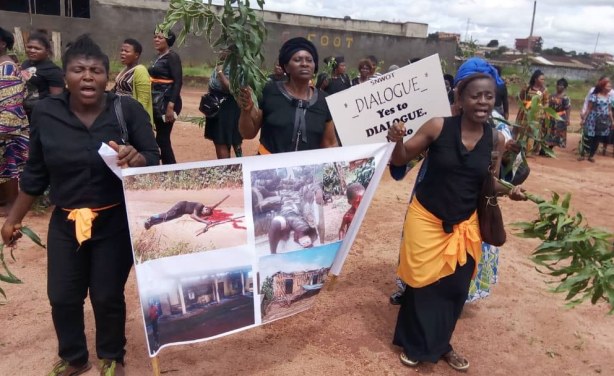 Women protest, holding up a poster with images of atrocities committed in an ongoing conflict between government forces and armed separatists, in Bamenda, Cameroon, Sept. 7, 2018.
InFocus
The spiraling crisis in the Anglophone regions has tarnished President Paul Biya's reputation in the West as an arbiter of stability in tenuous central Africa and could threaten ... Read more »

Armed Anglophone separatists have burned buses and blocked traffic into and out of the capital of the English-speaking northwest region, in an action meant to disrupt October's ... Read more »

Many people have fled the English-speaking regions of Cameroon as fighting has intensified in the Anglophone regions between security forces and armed groups. Unrest in the country ... Read more »