Ezekwesili Urges Nigerians to Make the Right Decision in 2019
Obiageli Ezekwesili, the presidential candidate of the Allied Congress Party of Nigeria, has urged Nigerians to vote for someone who will bring hope to the people and not despair. Ezekwesili has described her opponents in the 2019 general elections, President Muhammadu Buhari and Atiku Abubakar, as agents of failure and disappointment who have nothing new to offer Nigerians.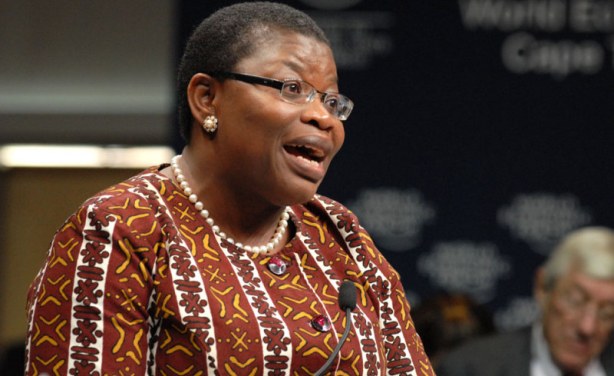 Obiageli Ezekwesili.
Nigeria: I'll Defeat Buhari, Atiku - Ezekwesili

Daily Trust, 30 October 2018

A former Minister of Education and presidential candidate of Allied Congress Party of Nigeria (ACPN), Dr. Oby Ezekwesili, has revealed how she would use her campaign strategies to… Read more »

Nigeria: Buhari Nigeria's 'Most Nepotistic, Partisan Leader Ever' - Ezekwesili

Premium Times, 29 October 2018

Obiageli Ezekwesili, the presidential candidate of the Allied Congress Party of Nigeria (ACPN) has accused the President Muhammadu Buhari administration of shielding corrupt… Read more »

Nigeria: Buhari Lacks Aptitude to Lead Nigeria, Says Ezekwesili

Guardian, 29 October 2018

The presidential candidate of the Allied Congress Party of Nigeria (ACPN),Oby Ezekwesili said President Muhammadu Buhari lacks the aptitude and capacity to continue to lead… Read more »

Nigeria: Break the Cycle of Repetition, Ezekwesili Urges Nigerians

This Day, 30 October 2018

The Presidential Candidate of the Allied Congress Party of Nigeria (ACPN), Mrs. Obiageli Ezekwesili has urged Nigerians to break away from an insane cycle of repeating the same… Read more »

Nigeria: Buhari, Atiku Not Good for Nigeria - Ezekwesili

Vanguard, 30 October 2018

Former Minister of Education, Dr. Oby Ezekwesili, yesterday, opened up on how she intends to win next February's presidential election with a blistering attack at President… Read more »
InFocus
Obiageli Ezekwesili says she will run as the candidate of the Allied Congress Party of Nigeria for the country's presidential election scheduled to take place in February 2019. "I ... Read more »
Video
Author:

allAfrica

Publisher:

Publication Date:

15 October 2018

Obiageli Ezekwesili says she will run as the candidate of the Allied Congress Party of Nigeria for the country's presidential election scheduled to ... see more »