Former Minister Puts Transnet, Eskom in #StateCapture Spotlight
The Zondo Commission of Inquiry into alleged state capture has reconvened with former public enterprises minister Barbara Hogan bringing her testimony, which centres on the funding and operation of state-owned enterprises like Transnet and Eskom in relation to the department of public enterprises. The commission continues its investigation into claims of undue influence by the politically connected Gupta family on members of the executive and state-owned entities during the administration of former president Jacob Zuma.
Video
Publisher:

Publication Date:

12 November 2018

Former Public Enterprises minister Barbara Hogan will testify when the Zondo Commission of Inquiry into State Capture resumes in Johannesburg this ... see more »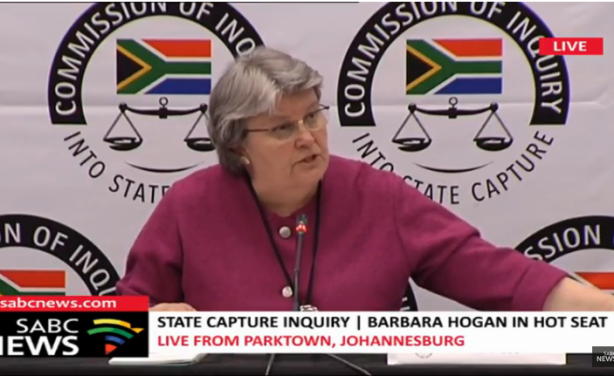 Video screenshot of former minister Barbara Hogan testifying at the Zondo Commission of Inquiry.
InFocus
Former Deputy Finance Minister Mcebisi Jonas is renowned in South Africa as the man who refused a $40 million bribe and the finance minister's job, offered to him by former ... Read more »

The North Gauteng High Court has ruled that former South African president Jacob Zuma should pay the costs of reviewing former public protector Thuli Madonsela's remedial action ... Read more »

Former South African finance minister Pravin Gordhan has revealed in a 68-page sworn statement delivered to the Zondo Commission of Inquiry that he only officially met the Guptas ... Read more »