Watch U.S. Talk Show Host Jimmy Kimmel Mock 'Clone' Buhari
The alleged cloning of President Muhammadu Buhari took another dimension of ridicule when U.S. TV host Jimmy Kimmel made it the butt of his jokes on a live show. Buhari had tweeted that "It's the real me" adding that he would be celebrating his 76th birthday shortly, to which Kimmel said "That's exactly what a clone would say". Kimmel then shared the video of the show on twitter and asked "Is Nigerian President Buhari a clone"?
Video
Author:

Jimmy Kimmel Live

Publisher:

Publication Date:

4 December 2018

The President of Nigeria is defending himself from the unusual accusation that while he was out of the country for more than three months last year, ... see more »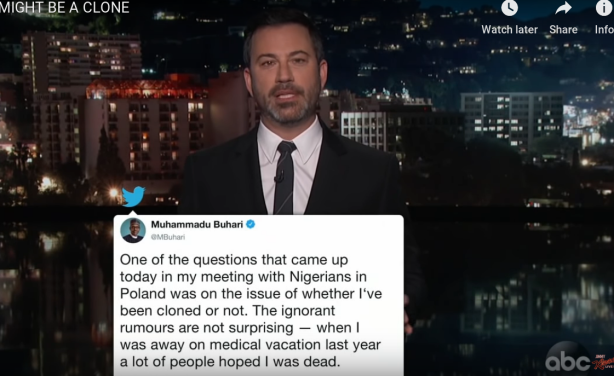 Is Nigerian President Buhari a clone, Jimmy Kimmle asks.
InFocus
Nigeria's President Muhammadu Buhari is once again at the centre of the question on whether he is real or if he has a body-double impersonating him. Read more »