Debating U.S. President George H.W. Bush's Africa Legacy
The role of former U.S. president George H.W. Bush in helping to re-shape international relations has been widely analysed since his recent death. His former assistant secretary of state for Africa, Herman Cohen, contends in a guest column that he changed Africa too, helping to end a number of conflicts. Deutsche Welle's Isaac Mugabi is less enthusiastic about Bush's role in Somalia, while AllAfrica's John Allen recounts the inside story of how Bush signalled a change to his predecessor, Ronald Reagan's apartheid-friendly policy on South Africa.
Africa: George H.W. Bush Took Africa Seriously

allAfrica, 13 December 2018

President George H.W. Bush found Africa worthy of his attention, and as his assistant secretary of State for African affairs, I found his optimism towards the continent… Read more »

Africa: How George H.W. Bush's Failed Somalia Intervention Shaped U.S.-Africa Ties

Deutsche Welle, 5 December 2018

As the US bids farewell to former US President George H.W. Bush, in Africa he is remembered most for his failed bid to stabilize Somalia, write DW's Isaac Mugabi. Read more »

South Africa: How George H.W. Bush Recognized a South African Liberation Leader

allAfrica, 3 December 2018

"I have been pleased today to welcome to the White House Mrs. Albertina Sisulu, of Soweto, South Africa... She personifies the struggle for human rights and human dignity, and her… Read more »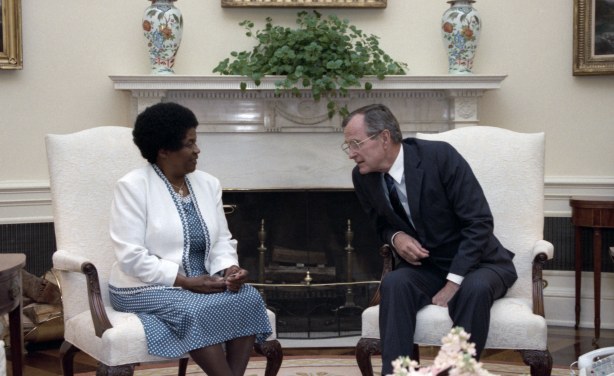 George H. W. Bush invited a liberation movement icon, Albertina Sisulu, to the White House in 1989 to signal that he was not as sympathetic to South Africa's apartheid leaders as his predecessor.
InFocus
"Under our new approach, every policy we pursue, every decision we make, every dollar of aid we spend will further US priorities in the region," said Assistant to the President for ... Read more »