Mozambican Finance Minister to Stay In Jail in South Africa
Former Mozambican finance minister Manual Chang has had his bail application postponed to January 18 by the Kempton Park Magistrate's Court. The postponement was granted to give his defence time to study an indictment detailing charges related to crimes that the U.S. alleges he committed and to review the validity of Chang's warrant of arrest pending an application for extradition.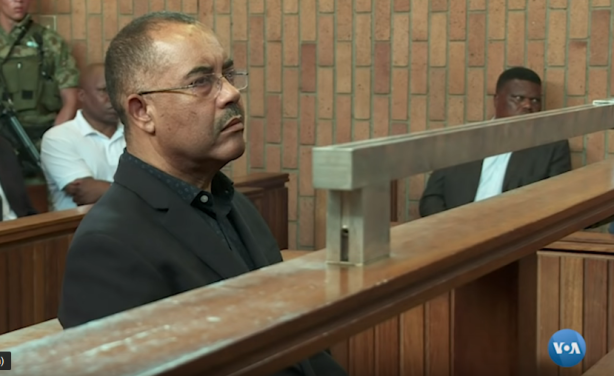 Mozambique's former finance minister Manuel Chang appears in court during an extradition hearing in Johannesburg.
Mozambique: Court Rules Chang's Arrest Legal, Delays Decision On Extradition

AIM, 9 January 2019

The Kempton Park Magistrates Court in Johannesburg on Wednesday again postponed the decision on whether to grant the request from the United States Justice Department for the… Read more »

South Africa: Arrested Former Mozambican Finance Minister to Continue Fight Against Extradition to U.S.

News24Wire, 9 January 2019

Former Mozambican finance minister Manuel Chang is expected to continue his fight against extradition to the US in the Kempton Park Magistrate's Court in Ekurhuleni on Wednesday. Read more »

Mozambique: Credit Suisse May Have to Pay Up to U.S.$300 Million

AIM, 9 January 2019

Although the United States prosecutors have not charged Credit Suisse with any crime, under the investigation into the scandal of Mozambique's "hidden debts", the bank's… Read more »

Southern Africa: Former Mozambican Finance Minister Looks for Loopholes to Get His Freedom

News24Wire, 9 January 2019

The former Mozambique minister of finance Manuel Chang plans to fight tooth and nail against his extradition to the United States, and what he calls his "illegal detention" by… Read more »

South Africa: Former Mozambican Finance Minister's Arrest Was Lawful - Court

Mozambique News Reports And Clippings, 9 January 2019

The arrest of Manuel Chang at the request of US authorities was confirmed this morning at Kempton Park magistrates court, Johannesburg. The court rejected the claim by his lawyers… Read more »

South Africa: Ex-Mozambique Finance Minister in Court Over Loan Scandal

VOA, 9 January 2019

Manuel Chang spent less than an hour in a Johannesburg courtroom on Tuesday, appearing confident and relaxed in jeans and a blue blazer as South African lawyers discussed the fate… Read more »

Mozambique: Chang Extradition - Decision Delayed

AIM, 8 January 2019

The Kempton Park Magistrates Court in Johannesburg has postponed by 24 hours its decision on the fate of former Mozambican Finance Minister Manuel Chang, who has been in South… Read more »

Mozambique: U.S. Refused to Cooperate With Govt On Secret Debt- Attorney General

Mozambique News Reports And Clippings, 8 January 2019

Mozambique's Attorney General made formal requests to the United States starting 30 March 2017 and the last on 14 March 2018 about bank transfers relating to companies in the… Read more »

South Africa: Former Mozambique Finance Minister Claims Arrest Was Unlawful

News24Wire, 8 January 2019

Former Mozambican finance minister Manuel Chang is to remain behind bars after briefly appearing in the Kempton Park Magistrate's Court on Tuesday. Read more »
Video
Author:

eNCA

Publisher:

Publication Date:

8 January 2019

The former Mozambican finance minister Manuel Chang, will appear in court in South African court following his detention on December 29 at Oliver ... see more »
Mozambique: The Banker Bros Who Bankrupted Mozambique

Daily Maverick, 8 January 2019

In December 2018, the US Department of Justice indicted three former Credit Suisse bankers for their role in bringing Mozambique's economy to its knees. State-owned entities… Read more »

Mozambique: Chang Received U.S.$12 Million, Says U.S. Indictment

Mozambique News Reports And Clippings, 8 January 2019

The indictment against Manuel Chang and others was published on 3 January. Two other senior Mozambicans have also been charged but their names are blacked out, as they have not yet… Read more »

Mozambique: Former Finance Minister's Lawyer Will Seek Bail

AIM, 7 January 2019

Rudi Krause, the South African lawyer for Mozambique's former Finance Minister, Manuel Chang, who has been detained in Johannesburg for the past nine days, says he intends to seek… Read more »

Mozambique: Centre for Public Integrity Calls for a Halt to Debt Negotiations

AIM, 7 January 2019

In the light of the American indictment against former Mozambican Finance Minister Manuel Chang, and those who allegedly conspired with him to defraud the Mozambican public and… Read more »

Mozambique: Mozambicans Must Not Pay Illegal Debts

AIM, 7 January 2019

Mozambique's Budget Monitoring Forum (FMO), a coalition of civil society organisations, has argued that the arrests of former finance minister Manuel Chang, three former executives… Read more »
InFocus
Manuel Chang had been red-flagged by Interpol and is wanted by the United States for his alleged involvement in financial crimes totalling U.S.$2 billion. Read more »

Guarantees for the controversial secret loans were signed by then -finance minister, Manuel Chang, according to Verdade. Read more »