Al-Shabaab Claims Two Deadly Attacks in Somalia
Twin incidents of terrorism have shaken Somalia. In the first, Paul Anthony Formosa, a Maltese national who was the manager of the port of Bosaso in semi-autonomous Puntland, was shot dead. The Al-Shabaab extremist group claimed responsibility - and also claimed the second incident, in which a car bomb went off in Mogadishu killing at least 11 people.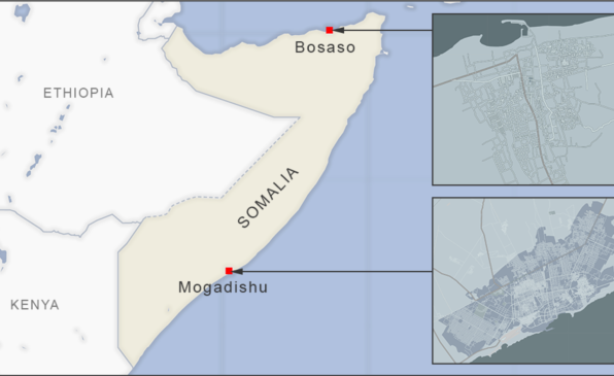 A map showing the locations of the two attacks.
Somalia: Al-Shabaab Car Bomb Kills At Least 8

Shabelle, 4 February 2019

The Al-Qaeda-linked Al-Shabaab has claimed responsibility for a deadly car bomb attack in Somalia's capital, Mogadishu on Monday morning. Read more »

Somalia: Huge Blast Heard in Mogadishu

Vanguard, 4 February 2019

A huge blast was heard in the heart of the Somali capital Mogadishu on Monday and clouds of smoke could be seen rising, a Reuters witness said. Read more »

Somalia: Huge Explosion Heard in Mogadishu

Shabelle, 4 February 2019

A heavy explosion reported in Mogadishu, the Somali capital on Monday morning amidst tight security in the seaside city. Read more »

Somalia: Al-Shabaab Claims Responsibility for Port Head's Murder

Shabelle, 4 February 2019

The Head of Dubai based P&O ports, a port operator owned by the UAE's DP world in Bassaso town, Paul Anthony Fermosa, has been killed on Monday morning. Read more »

Somalia: Dubai Company's Port Official Shot Dead in Puntland

allAfrica, 4 February 2019

A senior representative of Dubai-based harbour operator DP World has been killed in the port town of Bosaso in Somalia's semi-autonomous region of Puntland, Bloomberg reports. Read more »
InFocus
Al-Shabaab militants had launched a surprise dawn attack on Saturday at the base near Bula Gudud village. The U.S. Africa Command says in a revenge attack, it targeted a site in ... Read more »