UN Agencies Call for End to Genital Cutting of Girls
Amid media reports of the continuing genital mutilation of girls in parts of Nigeria and Uganda, the heads of three United Nations agencies have marked the "International Day of Zero Tolerance for Female Genital Mutilation" by pledging to ensure that "the tens of millions of girls" at risk of being mutilated by 2030 are protected.
Africa: Islam Must Never Be Used to Justify Genital Cutting

Thomson Reuters Foundation, 6 February 2019

Last week, we witnessed the first-ever conviction of female genital mutilation/cutting (FGM/C) in the UK, more than 30 years after the practice was criminalized in that country. Read more »

Africa: 'Eliminate Female Genital Mutilation By 2030' - UN Agencies

UNFPA, 6 February 2019

Mary Oloiparuni was 13 when she was mutilated. Restrained in a doorway early one morning in her home, she was cut, bled profusely and experienced agonizing pain. The scarring she… Read more »

Nigeria: Alarm Raised Over Genital Mutilation in South East

Leadership, 6 February 2019

The Chief of field office, UNICEF Enugu, Dr. Ibrahim Conteh, has raised the alarm at the persistent culture of female genital mutilation/cutting (FGM/C) in some parts of the globe,… Read more »

Uganda: FGM Resurgence - There Is Need to Change Social Norms and Beliefs

Monitor, 25 January 2019

Media reports have been awash with stories about the resurgence of female genital mutilation (FGM) in the Sebei sub-region, with the highest number of victims reported coming from… Read more »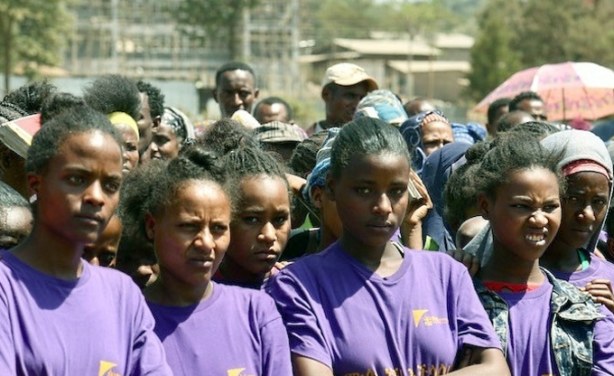 In Ethiopia, "uncut girls' clubs" have been formed, in which girls help to educate their peers, encourage families to exchange their views on FGM, and speak up for girls' rights in the community.
Kenya: War On FGM Is Being Won As Community Shifts Mind

Nation, 5 February 2019

With more than 5,000 new female genital mutilation cases recorded in England alone, FGM is no longer a Kenyan or African issue; it is global. Read more »

Liberia: Rights Group Tasks Liberia On FGM Measures

New Democrat, 4 February 2019

Equality Now, a human rights advocacy group has called on the Liberian government to act on anti-Female Genital Mutilation, FGM, laws that have elapsed. Read more »

Egypt: Babies Get Blue Ribbons As Parents Say 'No' to Female Genital Mutilation

Thomson Reuters Foundation, 6 February 2019

Parents will receive the badges after signing a pledge that they will not have their daughters cut Read more »

Nigeria: 309 Communities Declare Abandonment of FGM - Unicef

Daily Trust, 6 February 2019

The United Nations International Children's Emergency Fund (UNICEF) says over 309 communities in Nigeria have publicly declared their abandonment of female genital mutilation in… Read more »

Nigeria: Nigeria Living With Dying Practice of Female Circumcision

Vanguard, 5 February 2019

The challenge of Female Genital Mutilation & Cutting, FGM/C in Nigeria and several countries persists despite efforts to curb it. Read more »

Tanzania: Female Genital Mutilation - UN Day of Zero-Tolerance

Daily News, 6 February 2019

TODAY, February 6, is the United Nations International Day of Zero Tolerance to Female Genital Mutilation (FGM). Read more »

Liberia: A Plea for the Liberian Government to Permanently Ban FGM

FrontPageAfrica, 5 February 2019

IN THE FINAL YEAR of her presidency, Ellen Johnson-Sirleaf took a giant step albeit temporary, in placing a ban on Female Genital Mutilation. The Executive Order No. 92 was however… Read more »

Africa: What Is Female Genital Mutilation and Where Does It Happen?

Thomson Reuters Foundation, 6 February 2019

FGM is practised in at least 30 countries, mostly in Africa but also in pockets of the Middle East and Asia Read more »

Africa: Top 5 Things You Didn't Know About Female Genital Mutilation

UNFPA, 5 February 2019

Too often, the first message a girl receives about her body is that it is imperfect - too fat or too thin, too dark or too freckled. But for some girls, the message is that, to be… Read more »

Africa: How to Target Resources in Efforts to End Female Genital Mutilation

The Conversation Africa, 30 January 2019

A new study shows that 130 million women have undergone female genital mutilation (FGM) in 29 of the highest prevalence countries, many of which are in Africa. And 30 million more… Read more »
InFocus
Five young women who developed an app to combat Female Genital Mutilation (FGM) have been awarded the 'African of the Year' award by Nigeria's Media Trust. The awardees - Stacy ... Read more »

The attorney general will be sending a team of investigators to find out more about the death of the girl, Deeqa, who suffered severe bleeding after her mother took her to a ... Read more »

Federal and State legislatures have been urged by Rita Maduagwu, the speaker of the Anambra State House of Assembly, to enact laws against the practice she described as a violation ... Read more »