Trump Calls For Deep Cuts in Aid to Kenya
In its State Department budget proposal, the White House reportedly justifies these cuts as ways of "reducing dependency on U.S. assistance and increasing self-sufficiency" on the part of African nations. The White House also apparently wants to end U.S. support for the African Development Bank and for the Young African Leaders Initiative that former President Barack Obama crafted as a way of wooing Africans who could become influential figures in the coming years.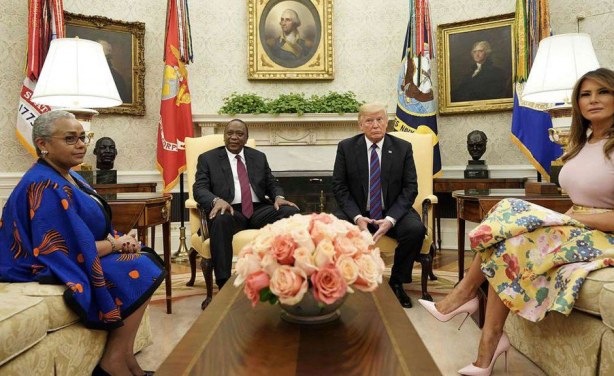 The Kenyattas meet the Trumps at White House on August 27, 2018.
InFocus
Melania Trump is on a two-day visit to highlight United States' support in early-childhood education, wildlife conservation and HIV prevention. She brings to Africa her 'Be Best' ... Read more »

Her focus on this international trip will be on children, in line with campaigns that she has been running in the U.S. Read more »

A picture of President Uhuru Kenyatta and First Lady Margaret Kenyatta sandwiching hosts President Donald Trump and First Lady Melania Trump at the White House has Kenyans missing ... Read more »