U.S. First Lady Melania Trump Touches Down in Kenya
Melania Trump is on a two-day visit to highlight United States' support in early-childhood education, wildlife conservation and HIV prevention. She brings to Africa her 'Be Best' campaign that addresses the social wellbeing of children in terms of their heath and education, goals that are similar to those of Kenyan First Lady Margaret Kenyatta's Beyond Zero initiative. Trump has already visited Malawi and Ghana, and is later expected in Egypt.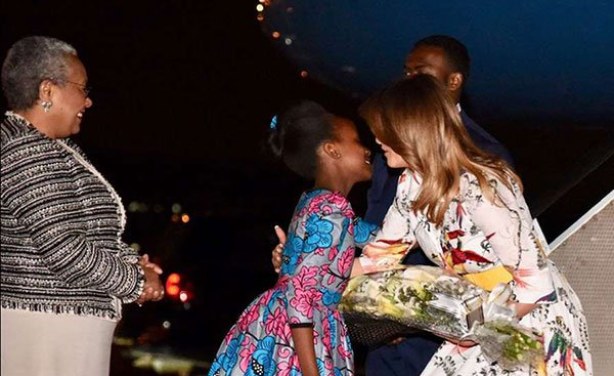 U.S First Lady Melania Trump arrives in Nairobi, Kenya, on October 4, 2018. She was received by First Lady Margaret Kenyatta.
First Lady Margaret Kenyatta welcomes US First Lady Melania Trump at JKIA on October 04, 2018.

First Ladies Margaret Kenyatta and Melania Trump at the Jomo Kenyatta International Airport.
InFocus
Melania Trump landed in Ghana on Tuesday as she began her first-ever visit to Africa. She will also make stops in Malawi, Kenya and Egypt. The White House described the trip as a ... Read more »

The U.S. first lady will highlight the work of the United States Agency for International Development in Africa, which focus on agriculture, health care, governance and climate ... Read more »

Her focus on this international trip will be on children, in line with campaigns that she has been running in the U.S. Read more »