No South Africa Bailout for Zimbabwe After Ramaphosa Visit
South African President Cyril Ramaphosa concluded a much-anticipated visit to Zimbabwe where he repeated calls for an end to Western sanctions. While Ramaphosa said Zimbabwe deserved the support of the international community, he made no mention of any financial bailout plans from South Africa. In 2018, Mnangagwa's governemnt reportedly requested U.S.$1.2 billion in emergency credit from South Africa, but Pretoria indicated it did not have the funds.
Zimbabwe: Govt, South Africa to Implement 45 MOUs

The Herald, 13 March 2019

Presidents Mnangagwa and Cyril Ramaphosa yesterday agreed to accelerate implementation of agreements covering various sectors of the economy during the third session of the… Read more »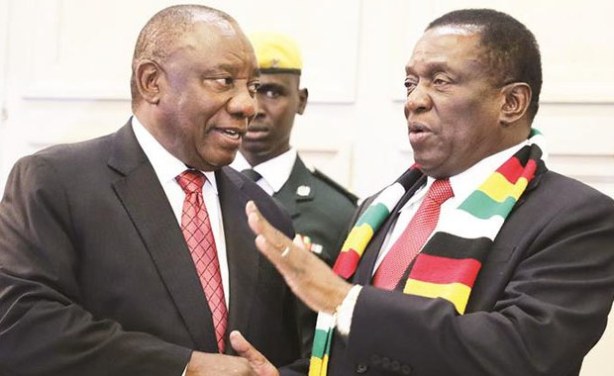 President Emmerson Mnangagwa (right) speaks to his South African counterpart, President Cyril Ramaphosa, during the just-ended Third Session of the Zimbabwe-South Africa Bi-National Commission meeting in Harare.
Zimbabwe: Captains of Industry Upbeat Over Bi-National Commission

The Herald, 13 March 2019

Captains of industry and commerce yesterday expressed confidence that the Bi-National Commission (BNC) meetings held between Zimbabwe and South Africa this week will promote trade… Read more »

South Africa: Ramaphosa Wants Sanctions Gone, Hails Reforms

The Herald, 13 March 2019

South African President Cyril Ramaphosa yesterday said his country will support Zimbabwe's economic growth and reform efforts and called on the West to remove all sanctions imposed… Read more »

Zimbabwe: Ramaphosa Jets in for BNC Meeting

The Herald, 12 March 2019

South African President Cyril Ramaphosa arrived in the country last night ahead of today's third session of the Zimbabwe-South Africa Bi-National Commission Summit in Harare. Read more »

South Africa: Ramaphosa in Zimbabwe to Chair Bi-National Commission

News24Wire, 12 March 2019

President Cyril Ramaphosa flew into Harare on Monday evening, ahead of co-chairing the Bi-National Commission (BNC) with his Zimbabwean counterpart Emmerson Mnangagwa. Read more »

South Africa: President Ramaphosa Meets With Zim's Mnangagwa

SAnews.gov.za, 12 March 2019

President Cyril Ramaphosa is in Harare, Zimbabwe, where he is expected to co-chair the third session of the South Africa-Zimbabwe BNC with his counterpart, President Emmerson… Read more »

Zimbabwe: South Africa Gives U.S.$3,8 Million For Police Training

The Herald, 13 March 2019

South Africa has extended 55 million rand to Zimbabwe to be channelled towards police training and protective gear required in policing activities. Read more »

Zimbabwe: South Africa Donates Tablets to Ruwa Rehab

The Herald, 12 March 2019

South Africa's Ministry of Social Development yesterday donated 10 latest versions of Samsung tablets to Ruwa Rehabilitation Centre. The gadgets are for imparting information… Read more »

Zimbabwe: Ramaphosa Reiterates Support for Mnangagwa's Govt

SAnews.gov.za, 12 March 2019

President Cyril Ramaphosa has reiterated South Africa's commitment to work with Zimbabwe in addressing the socio-economic challenges experienced by the two neighbouring countries. Read more »

Africa: South Africa Plans to Help Bail Out Zimbabwe - Finance Minister Mboweni

Daily Maverick, 21 January 2019

South Africa is planning to extend short-term credit to Zimbabwe and also to help it write off its US$7.4-billion external debt, to prevent its neighbour spiralling out of control.… Read more »

Zimbabwe: Malema Calls on South African Govt to Help Zimbabwe

New Zimbabwe, 24 January 2019

SOUTH African opposition Economic Freedom Fighters (EFF) leader has called on his government to bail-out stricken northern neighbour Zimbabwe. Read more »