Is Kenya's Ruling Party Still Intact as DP Ruto Claims?
Jubilee leaders claim the opposition is now using the Odinga-Kenyatta handshake to cause confusion and a political storm in the ruling party, thus undermining the implementation of the Big Four agenda of manufacturing, housing, food security and healthcare. They say the opposition has come up with the "corruption narrative" to tarnish the image of the Jubilee Party ahead of the 2022 General Election.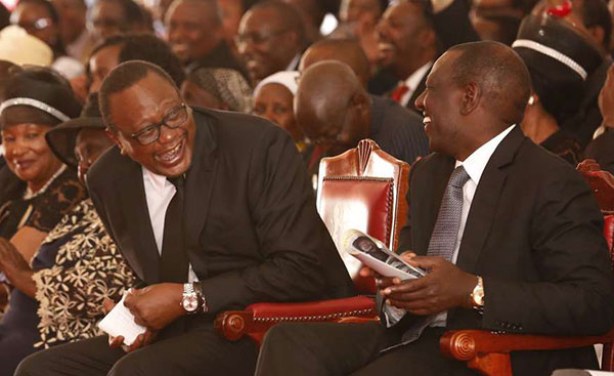 President Uhuru Kenyatta (left) and his deputy William Ruto attend musician Joseph Kamaru's burial in Murang'a (file photo).
Kenya: 'TeamKenya' Jubilee MPs Now Want DP Ruto Removed From Office

Nairobi News, 24 March 2019

A section of Members of Parliament from the Jubilee Party, who identify themselves as #TeamKenya, are now calling for the ouster of Deputy President William Ruto. Read more »

Kenya: Jubilee's Defining Moment As Ruto, Uhuru Clash On Graft

Nation, 24 March 2019

Deputy President William Ruto this week made the clearest statement yet that his own Jubilee administration had turned against him under the guise of the war on corruption. Read more »

Kenya: Stop Intimidating Anti-Graft Agencies, Odinga Tells Ruto

Nation, 24 March 2019

Opposition leader Raila Odinga has asked Deputy President William Ruto to stop politicising the ongoing war on corruption. Read more »

Kenya: Odinga's Allies Criticise Ruto, Back Kenyatta in Anti-Graft War

Nation, 24 March 2019

Politicians in the Orange Democratic Movement (ODM) have taken jabs at Deputy President William Ruto, accusing him of derailing President Uhuru Kenyatta's war on corruption. Read more »

Kenya: When Dennis Itumbi's System of Facts Fails Him

Nation, 24 March 2019

When the Jubilee government was being assailed by the media, civil society and the opposition for its performance during its first term, Mr Dennis Itumbi, then-Secretary for… Read more »

Kenya: You Must Keep Your Promise, Ruto Allies Tell Kenyatta

Nation, 24 March 2019

Deputy President (DP) William Ruto on Sunday gave the hunger and starvation in the northern Kenya a wide berth instead focusing on his rival Raila Odinga. Read more »

Kenya: Jubilee Wars Escalate as 12 MPs Ask William Ruto to Resign

Nation, 24 March 2019

Several Jubilee MPs and three others from the opposition on Sunday asked Deputy President William Ruto to resign if he is displeased by the ongoing war on corruption. Read more »

Kenya: Jubilee MPs Urge Kenyatta, Ruto to Shield Party From Agents of Doom

Capital FM, 23 March 2019

Jubilee MPs led by National Assembly Majority Leader Aden Duale have urged President Uhuru Kenyatta and Deputy President William Ruto to protect the party from agents they claim… Read more »

Kenya: Raila Is Out to Derail My 2022 Presidential Dream - Ruto

Nation, 16 March 2019

Deputy President William Ruto has accused ODM leader Raila Odinga and his allies of scheming to lock him out of the Jubilee Party. Read more »
InFocus
It is not yet clear whether the deactivation of President Uhuru Kenyatta's accounts was prompted by a post on his Twitter account that declared his readiness to severe ties with ... Read more »

The members of parliament has also cautioned Deputy President William Ruto against attacking opposition leader Raila Odinga and told him to stop attacking President Uhuru Kenyatta ... Read more »

By choosing to attack President Uhuru Kenyatta's "new best friend", Raila Odinga and blaming him for the controversy that has rocked dam projects, Deputy President William Ruto ... Read more »