What Kenyans Thought of Kenyatta's State of the Nation Address
President Uhuru Kenyatta's address doesn't seem to resonate with Kenyans on social media, with one Twitter user pointing out that the "president spoke to the nation for a whole hour, kept them glued to TVs at the expense of work and told them nothing. Same old rhetoric of yesteryears".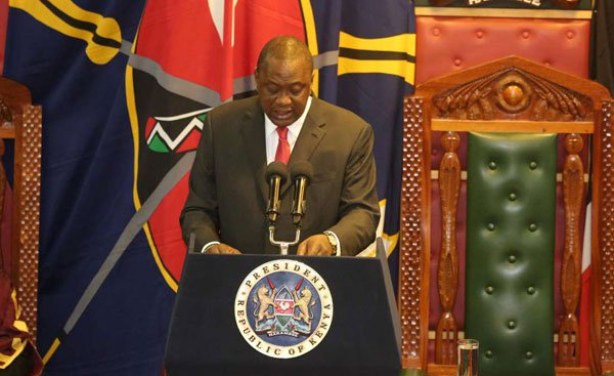 President Uhuru Kenyatta delivering his State of the Nation Address at Parliament Buildings on April 4, 2019.
Kenya: Kenyatta Says War on Graft Will Be Guided By the Rule of Law

Nation, 5 April 2019

Walking a tightrope in his war on corruption, President Kenyatta chose safety over popularity. Facing a possible backlash from his party members, the President chose the more tried… Read more »

Kenya: Foes, Friends Unite in Kenyatta State of the Nation Address

Nation, 5 April 2019

It was President Uhuru Kenyatta's 7th State of the Nation address to a joint sitting of the National Assembly and Senate since he was elected to office in March 2013. Read more »

Kenya: Kenyatta's Eggshells Walk Around Sticky Corruption Issue

Nation, 5 April 2019

Weighed against the hype leading up to President Uhuru Kenyatta's State of the Nation address, the outcome on Thursday was something of an anticlimax. Read more »

Kenya: Hilarious Memes of Kenyatta's State of the Nation Address

Nairobi News, 4 April 2019

Kenyans creatively reacted to the President Uhuru Kenyatta's State of the Nation address using memes. Read more »

Kenya: SOTN Address - Kenyatta Still Dreams of Building 17 Houses Per Hour Till Term Ends

Nairobi News, 4 April 2019

President Uhuru Kenyatta still hopes to build 500,000 new houses within the 40 months left in his second term. Read more »

Kenya: President Kenyatta Cautions Against 'Vigilante Justice' in Graft War

Capital FM, 4 April 2019

President Uhuru Kenyatta has cautioned Kenyans against what he terms as a "vigilante justice" in the war against graft saying the rule of law must be followed in pursuit for… Read more »

Kenya: President Uhuru Touts Nairobi - Mombasa SGR Among World's Magnificent Railway Tours

Capital FM, 4 April 2019

President Uhuru Kenyatta praised the Standard Gauge Railway which has so far carried more than 2 and half million Kenyans in 2018 between Nairobi and Mombasa. Read more »
InFocus
President Uhuru Kenyatta has delivered his much awaited State of the Nation address at Parliament on Thursday, speaking strongly on matters including the war on graft, the Big Four ... Read more »

Deputy President William Ruto's recent meeting with President Uhuru Kenyatta, may have been a turning point for the president's legacy as Chief State Prosecutor Noordin Haji ... Read more »

The Jubilee Party leadership in the National Assembly has said "they love their party leader and President Uhuru Kenyatta", and look forward to the State of the Nation address. The ... Read more »