Atiku Abubakar Denies Hiring U.S. Lobby Group to Unseat Buhari
Atiku Abubakar, presidential candidate for the Peoples Democratic Party, has dismissed allegations that he spent U.S.$30,000 to hire a U.S. lobby group to challenge of the outcome of the February 23 presidential poll. He claimed that the allegation were instigated by the Buhari campaign. President Muhammadu Buhari defeated Abubakar in the election but he rejected the results, alleging that the poll was heavily "militarised" and the results "manipulated".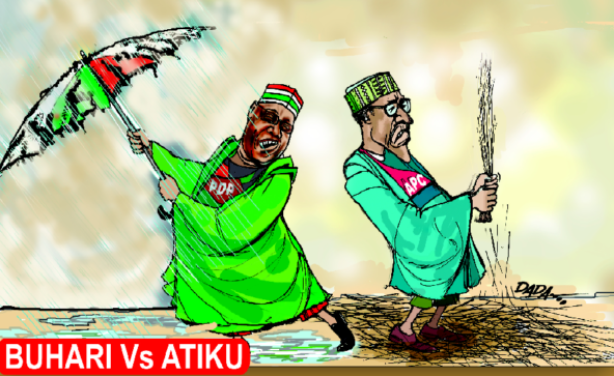 Abubakar Atiku and President Muhammadu Buhari.
Nigeria: Atiku Hires U.S. Lobbyist for $30,000 to Unseat Buhari

Vanguard, 9 April 2019

The Peoples Democratic Party (PDP) presidential candidate, Atiku Abubakar, has been reported to have employed the services of a United States lobbyist firm to battle the All… Read more »

Nigeria: Atiku Better Than Buhari By Far, Obasanjo Insists

Daily Trust, 1 April 2019

A former President, Chief Olusegun Obasanjo on Monday insisted that the Peoples Democratic Party (PDP) presidential candidate in the 2019 general election, Atiku Abubakar, was… Read more »

Nigeria: Atiku Hires U.S. Lobbyist to Unseat Buhari

Vanguard, 10 April 2019

Atiku Abubakar, presidential candidate of the Peoples Democratic Party, PDP, has employed the services of a United States lobbyist firm to advance his challenge of the outcome of… Read more »

Nigeria: Lessons of Nigeria's Elections 2019

Guardian, 5 April 2019

The lessons of Nigeria's Elections 2019 to which I refer here are not abstract lessons-in-general or lessons-for-all-time, but concrete lessons that emerged for the use of… Read more »
InFocus
The presidential candidate of the Peoples Democratic Party Atiku Abubakar has followed through with his promise to challenge the results. Abubakar called the election a sham and ... Read more »

The Court of Appeal in Abuja has ordered the Independent National Electoral Commission to permit the People's Democratic Party and its presidential candidate Atiku Abubakar to ... Read more »

Atiku Abubakar, 77, a former vice president of Nigeria under the leadership of then former president Olusegun Obasanjo, ran against incumbent Muhammadu Buhari for the presidency on ... Read more »