Rescuers Struggle to Reach Mozambique Cyclone Victims
Continued rains caused flooding in northern Mozambique, just three days after Cyclone Kenneth killed at least five people and damaged thousands of houses in the southern African country. The cylone struck northern Mozambique, barely a month after the country was hit by one of the worst storms in its history, which killed hundreds.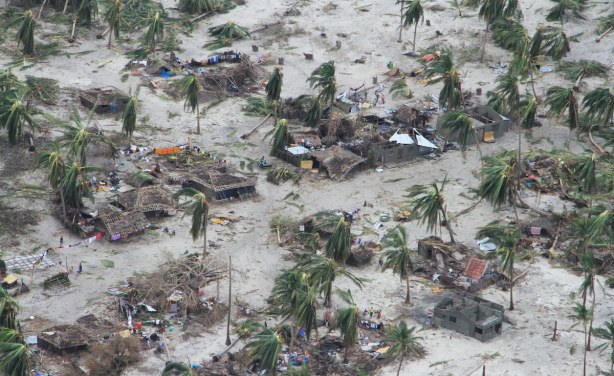 Aid workers report "scenes of vast destruction" in areas like Mucojo in province of Cabo Delgado following #CycloneKenneth Five deaths reported so far; main city of Pemba largely spared.
Mozambique: Massive Flooding and Torrential Rain Slam Cabo Delgado

Mozambique News Reports And Clippings, 28 April 2019

Category 4 cyclone Kenneth hit Thursday night (25 April) and has destroyed thousands of houses on the islands and in the districts of Macomia, Quissanga and Mocimboa da Praia.… Read more »

Mozambique: Rescuers Struggle to Reach Cyclone Victims

Citizen, 28 April 2019

Thousands of people in remote areas of storm-lashed Mozambique were homeless Saturday and bracing for imminent flooding, food and water shortages as Cyclone Kenneth flattened… Read more »

Mozambique: Heavy Rains Cause Massive Flooding

Deutsche Welle, 28 April 2019

Serious flooding has wreaked havoc in parts of Mozambique, as houses have collapsed in many parts of the area. Rescue efforts are underway to help people trapped by rising… Read more »

Mozambique: Additional 368,000 Children At Risk After Second Cyclone - Unicef

Unicef, 27 April 2019

Children and families in areas affected by Cyclone Kenneth could face deadly flooding and landslides in coming days Read more »

Mozambique: After Cyclone Kenneth, Mozambique Hit By Rain and Winds

Deutsche Welle, 26 April 2019

After hitting the northern coast of Mozambique, the second storm to strike the southern African state in five weeks is threatening days of rain. It is the first cyclone to hit Cabo… Read more »
InFocus
A powerful tropical cyclone has hit Mozambique and Tanzania. Three people have been killed in Comoros, with meteorologists calling it the strongest storm to make landfall in the ... Read more »