Does Africa Need New Infrastructure Funding Options?
Despite debt concerns, Ethiopia and other governments express support for the Belt and Road initiative and went to Beijing to negotiate for more Chinese financing, writes Silja Fröhlich for Deutsche Welle.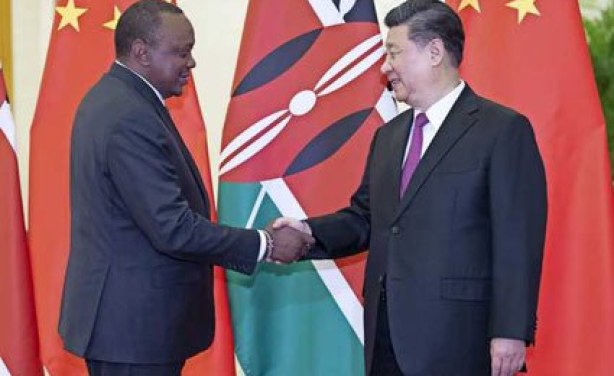 President Uhuru Kenyatta (left) greets Chinese President Xi Jinping at the Great Hall of the People in Beijing on April 25, 2019 ahead of the second Belt and Road Forum for International Cooperation.
Zimbabwe: Belt & Road Initiative - a Chance for Zimbabwe

The Herald, 29 April 2019

This is a full text of a speech delivered by Zimbabwe's Minister of Information, Publicity and Broadcasting Services and head of delegation to the just-ended Belt Road Initiative… Read more »

Kenya: CS Juma Says Beijing Visit Was Anchored On Trade, Not Just Borrowing

Capital FM, 27 April 2019

Foreign Affairs Cabinet Secretary Monica Juma has assured that the relationship between Kenya and China is still strong despite failing to secure Sh368 billion meant for the SGR… Read more »

Kenya: Why China Refused to Finance Railway It Initially Backed

Nation, 27 April 2019

It can now be revealed that difficult loan conditions were responsible for Kenya's failure to get funding for the second phase of the SGR. Read more »

Ethiopia: China's Reprieve On Interest-Free Loan Only

Addis Standard, 25 April 2019

It has come to the attention of Addis Standard that China's pledge to write off Ethiopia's debt is related only to interest-free loan, and not "interest on all loans", as was… Read more »

Tanzania: BRI Forum Pushes for Cooperation in Human Resource Development

Daily News, 29 April 2019

PARTICIPANTS to the second Belt and Road Initiative (BRI) forum have underscored the importance of strengthening cooperation in human resource development, education and people's… Read more »