Botswana Hosts Crucial Elephant Summit
The elephant summit scheduled for May 7 will assist authorities to refine the decision on the hunting ban, the government has said. Angola, Namibia, Zambia and Zimbabwe, which also have the largest number of elephants in the region, have thrown their weight behind Botswana's management of elephants, which includes lifting the hunting ban and castration of the largest mammal on earth.
Southern Africa: Elephant Summit Kicks Off in Kasane

Botswana Daily News, 5 May 2019

Southern Africa is home to 250 000 elephants, majority of them found in the Kavango Zambezi Trans frontier Area (KAZA TFCA). Read more »

Southern Africa: Botswana to Host Elephant Summit

The Herald, 30 April 2019

Heads of State of countries that make up the Kavango-Zambezi Transfrontier Conservation Area, including Zimbabwe, are this week expected to meet in Kasane, Botswana, for an… Read more »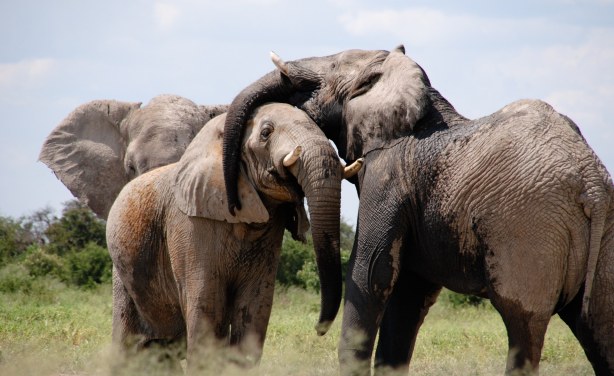 ...
Zimbabwe: Elephant Summit Kicks Off

The Herald, 6 May 2019

President Emmerson Mnangagwa is expected in Botswana today to attend the crucial Elephant Summit taking place in the tourism town of Kasane. The Summit commenced on May 3 and will… Read more »

Botswana: Olopeng Speaks On Elephants

Botswana Daily News, 25 April 2019

The review of the hunting ban imposed four years ago is not tantamount to wholesale slaughter of wild animals. Read more »

Botswana: Elephant Summit to Debate Hunting Ban

Botswana Daily News, 25 April 2019

The elephant summit scheduled for early next month will assist government to refine its decision on the hunting ban, Minister of Environment, Natural Resources, Conservation and… Read more »

Africa: Four Countries Back Botswana's Plan to Lift Ban On Elephant Hunting

Citizen, 18 April 2019

Angola, Namibia, Zambia and Zimbabwe, which together host the largest population of elephants in Africa, have thrown their weight behind Botswana's plan to lift elephant hunting… Read more »
InFocus
Elephants play a crucial role in Africa's savanna ecosystems as seed dispersers. Their dung recycles valuable nutrients and by feeding on trees they maintain the savanna's matrix ... Read more »

The carcasses of 87 elephants have been found near a wildlife sanctuary in Botswana, in what conservation group Elephants Without Borders have called "the largest scale of elephant ... Read more »