Opposition's Atiku Accused of Undermining Buhari Presidency
Minister of Information, Lai Mohamed, has accused the main opposition Peoples Democratic Party's presidential candidate Atiku Abubakar of trying to sabotage President Muhammadu Buhari's administration. Abubakar has denied this, calling the minister a "liar."
Nigeria: Coup Evidence 'Exaggerated' By Govt, Security Agencies

Premium Times, 21 May 2019

The circulation of a document which allegedly called for a coup to overthrow President Muhammadu Buhari appeared to have been exaggerated by the Nigerian government and security… Read more »

Nigeria: Coup Fears Grip Country

CAJ News, 20 May 2019

Nigeria's intelligence agency has alleged a ploy by individuals and groups to overthrow the government ahead of President Muhammadu Buhari's inauguration later this month. Read more »

Nigeria: Tension As Govt Accuses Opposition of Subversive Tactics

Premium Times, 17 May 2019

The Nigerian government's media onslaught over purported opposition plots to seize power with extralegal tactics could have a serious implication for the nation's already fragile… Read more »

Nigeria: Allegation of Overthrow, a Despicable Lie, Atiku Insists

Guardian, 17 May 2019

The People's Democratic Party (PDP) presidential candidate in the February 23, 2019 presidential election, Atiku Abubakar, has insisted that claim by the Information Minister,… Read more »

Nigeria: Stop Beating Drums of War, Govt Tells Atiku, PDP

Daily Trust, 16 May 2019

The Federal Government yesterday said the Peoples Democratic Party (PDP) and its presidential candidate Atiku Abubakar should stop beating the drums of war in the country. Read more »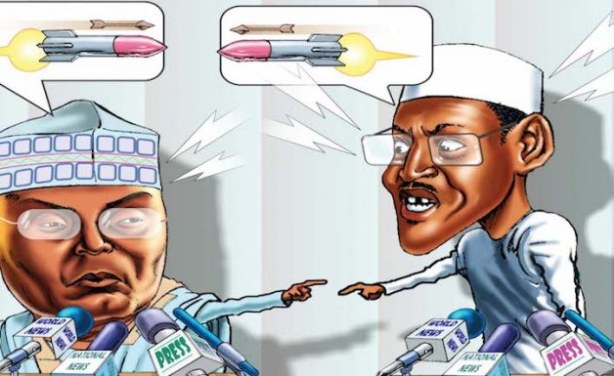 Atiku Abubakar and President Muhammadu Buhari.
Nigeria: 'Lai Mohammed a Liar, Buhari Desperate Dictator' - Atiku

Premium Times, 15 May 2019

A former vice president, Atiku Abubakar, has described the federal government's accusation that he is a saboteur as false. He described the information minister, Lai Mohammed, as a… Read more »

Nigeria: Govt Attacks Atiku, PDP - Claims Both Trying to Sabotage Buhari Administration

Premium Times, 15 May 2019

Nigeria's information minister, Lai Mohammed, on Wednesday attacked the main opposition party, PDP, and its presidential candidate, Atiku Abubakar. Read more »

Nigeria: Atiku Seeks Private Meeting With Tribunal Panel

Vanguard, 16 May 2019

There was heavy security presence at the Abuja Division of the Court of Appeal, as the Presidential Election Petition Tribunal begins pre-hearing session on the petition the… Read more »

Nigeria: PDP Plotting to Overthrow Buhari's Government, Govt Alleges

Guardian, 16 May 2019

The Federal Government yesterday alleged that the Peoples Democratic Party (PDP) and its presidential candidate, Atiku Abubakar were planning overthrow the President Muhammadu… Read more »

Nigeria: Tribunal Hears Atiku's Application Disqualifying Bulkachuwa May 22

Guardian, 16 May 2019

The Presidential Election Petition Tribunal will on May 22 hear the application seeking its chairman/President of the Court of Appeal, Justice Zainab Bulkachuwa, to recuse herself… Read more »
InFocus
Atiku Abubakar, the People's Democratic Party candidate is challenging the re-election of incumbent Muhammadu Buhari of the ruling All Progressives Congress. Buhari has asked the ... Read more »