Rigging Claims - Kenya's Presidential Inauguration Plan Halted
President Uhuru Kenyatta will be sworn-in on September 12 should he win the court case filed by the opposition leader Raila Odinga to challenge his win at the Supreme Court. Odinga says he is confident the opposition has "good evidence" that Kenyatta did not get the mandate of the people as the Independent Electoral and Boundaries Commission wants Kenyans to believe but was "made leader through the computer".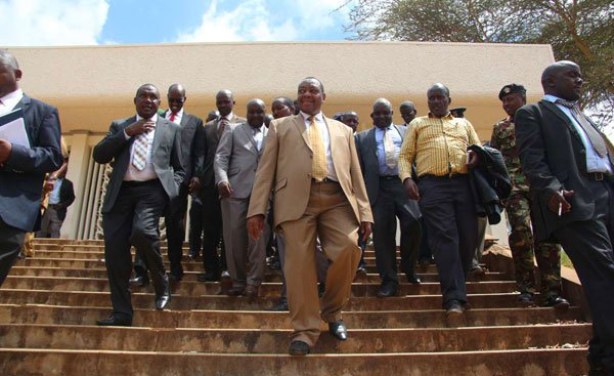 Members of the Assumption of Office of the President sub-committee inspect Kasarani stadium ahead of the swearing-in of the president.
Kenya: U.S. Envoy Faults Odinga's Poll Rigging Claim

Nation, 17 August 2017

Kenya's ambassador to the US Robinson Njeru Githae has challenged opposition leader Raila Odinga's claim that he would have been declared the winner of the August 8 presidential… Read more »

Kenya: Diplomats Laud Raila Move to Contest Poll Outcome in Court

Capital FM, 16 August 2017

The international community has welcomed the move by the National Super Alliance leader Raila Odinga to move to the Supreme Court to challenge President Uhuru Kenyatta's victory. Read more »

Kenya: Kisumu Residents Welcome Raila Court Decision

Capital FM, 16 August 2017

Residents of Kisumu have welcomed the decision by NASA to challenge the declaration by IEBC President Uhuru Kenyatta's re-election in the Supreme Court. Read more »

Kenya: Raila to Challenge Poll Outcome in Supreme Court

Capital FM, 16 August 2017

National Super Alliance leader Raila Odinga now says he will challenge the outcome of the August 8 presidential election in the Supreme Court. Read more »

Kenya: President Uhuru Kenyatta's Swearing-in Plan Put On Hold

Nation, 16 August 2017

Preparations for the swearing-in of President Uhuru Kenyatta for a second term have now been halted after Nasa co-principal Raila Odinga said he will challenge his election at the… Read more »

Kenya: Odinga Backers Ask Him to Foster Peace As He Weighs Options

Capital FM, 16 August 2017

Supporters of NASA leader Raila Odinga are now urging him to explore options that promote peace in the interest of the country's stability. Read more »

Kenya: Raila Odinga to Spell Out Position On Poll Results Row

Nation, 16 August 2017

National Super Alliance (Nasa) leader Raila Odinga put off to Wednesday an announcement on his next course of action after he rejected the presidential results of last week's… Read more »

Africa: Kenya's Election - the Good, the Bad and the Memorable Moments

The Conversation Africa, 15 August 2017

A few hours after Kenya's polling stations closed on Tuesday August 8th, the country's Independent Electoral and Boundaries Commission began transmitting live results. Read more »
InFocus
Kenyan opposition leader, Raila Odinga, has lost the presidential election for the fourth time in what he calls a "massive rigging" by president-elect Uhuru Kenyatta. In African ... Read more »

President Uhuru Kenyatta's struck a reconciliatory tone as he reached out to the opposition to work with him in developing the country during his second term in office. The main ... Read more »

Police were blamed for shooting and killing at least two people in the capital Nairobi - including a young child - as part of the latest bout of post-election violence in ... Read more »