Maternal Deaths Increase as Kenya Nurses' Strike Persists
A confidential ministry of health report states that the number of mothers who have died during childbirth has doubled to 857 from 413 deaths in the last year, making Kenya one of the worst places for childbirth. Nurses have been on strike since June 5 2017, demanding that their pay deal be implemented.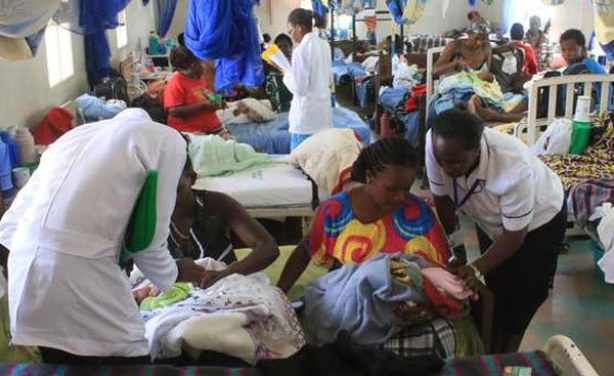 Nurses attend to newborn babies at Consolata Hospital in Nyeri on January 2, 2017.
Kenya: 15 Women Die While Giving Birth in Wajir County

Nation, 18 October 2017

Fifteen women have died while giving birth in Wajir County since the onset of the nurses' strike. Read more »

Kenya: Maternal Deaths Increase as Nurses' Strike Persists

Nation, 17 October 2017

The number of mothers who have died in childbirth doubled to 857 in the first half of this year, driven by prolonged doctors and nurses' strikes that have left most women without… Read more »

Kenya: Mental Health Services Hard Hit By Nurses' Strike

Nation, 12 October 2017

Mental health units in Kenya have been among the hardest hit by the ongoing nurses' strike. Read more »

Kenya: Tharaka-Nithi Nurses Resume Work After Pact With Muthomi Njuki

Nation, 11 October 2017

Nurses have resumed duty in Tharaka-Nithi County after reaching a deal with Governor Muthomi Njuki. Read more »

Kenya: County to Hire Nurses as Strike Takes Toll

Nation, 8 October 2017

The Kisumu County Government is set to hire 210 nurses on a three-month contract in the next six days. Read more »

Kenya: Nurses' Strike Beyond Pay and Job Evaluation - SRC

Nation, 4 October 2017

The national salaries regulator says it is not responsible for the protracted nurses' strike that is in its third month. Read more »

Kenya: Fire Striking Nurses, Celopa Mailu Tells Governors

Nation, 3 October 2017

The government has ruled out any talks with striking nurses and asked the Council of Governors to sack and replace them. Read more »

Kenya: Union Denies Some Nurses Have Returned to Hospitals

Nation, 2 October 2017

A group of nurses Sunday disputed claims by governors that a good number of them were at work. Read more »

Kenya: Passion Makes Nurse Soldier on Amid Toil in Public Hospitals

Nation, 1 October 2017

To say nurses are busy bees could be an understatement if one spent a day with these caregivers in public hospitals. Read more »
InFocus
The health workers, whose strike has entered its third month, are calling for improved pay, better working conditions, as well as promotions. Kirinyaga and Kiambu counties have put ... Read more »

The governors have taken a hardline decision, threatening to sack nurses who do not return to work by September 8. The Employment and Labour Relations Court has also affirmed the ... Read more »

The strike has seen the suspension of in-patient services in most public hospitals, forcing patients to go to private facilities. Nurses are protesting against the ... Read more »