Call For Product Boycott Worries Kenyan Companies
The opposition National Super Alliance's call could cause massive job losses of between 70,000 and 100,000, "affecting a million livelihoods". Other than Safaricom, Nasa has urged Kenyans not to buy products from Bidco, a leading supplier of edible oils and detergents, and Brookside Dairies.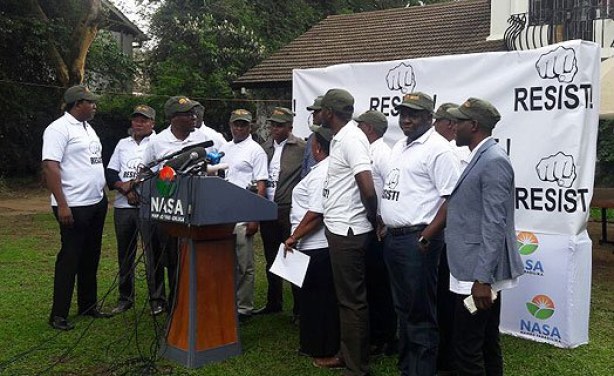 Nasa MPs after addressing journalists at Okoa Kenya offices in Nairobi on November 03, 2017.
Kenya: Regulator Now Wades Into Nasa Safaricom Boycott

Nation, 7 November 2017

The communications regulator has warned that calls by the opposition Nasa coalition to boycott Safaricom products will hurt jobs and the investment climate in the ICT industry. Read more »

Kenya: M-Pesa Agents Say 1 Million Jobs at Risk in Nasa Boycott Call

Nation, 6 November 2017

M-Pesa agents have condemned the opposition Nasa for calling on its supporters to boycott Safaricom's products saying the move will result in the loss of many jobs. Read more »

Kenya: Safaricom Dealers Ask Nasa to Leave Politics Out of the Economy

Capital FM, 6 November 2017

Safaricom Dealers Association has condemned the boycott called by NASA leaders, terming it as bad politics that hamper the economy. Read more »

Kenya: Raila Odinga 'To Ditch' Safaricom and Adopt Airtel

Nation, 6 November 2017

National Super Alliance (Nasa) leader Raila Odinga is set to ditch services offered by Safaricom this afternoon. Read more »

Kenya: Odinga to Dump His Safaricom Line and Take Up Airtel

Nairobi News, 6 November 2017

You have two hours to send Nasa leader Raila Odinga M-Pesa. Read more »

Kenya: Cotu Joins Calls Against Boycott of Safaricom Products

Nation, 6 November 2017

The Central Organisation of Trade Unions has appealed to the National Super Alliance (Nasa) to consider its call to supporters to boycott products by some companies, saying the… Read more »

Kenya: 1 Million Livelihoods to Be Affected By Nasa Boycott - Safaricom Dealers

Nairobi News, 6 November 2017

The Safaricom Dealers Association on Monday said that the livelihoods of at least one million Kenyans will be directly affected if the opposition boycotts their products. Read more »

Kenya: Product Boycott Call Aims to Address Injustices - Opposition

Nation, 6 November 2017

The Nasa leadership has defended the call for boycott of products from companies they claim are supporting the Jubilee government. Read more »

Kenya: Boycott Safaricom, Brookside and Bidco, Nasa Supporters Urged

Nairobi News, 3 November 2017

The National Super Alliance has officially kicked off its resistance strategy, by urging its supporters to boycott products and services produced by three major local companies. Read more »

Kenya: Nasa Announces Boycott of Some Services, Products

Nation, 3 November 2017

Parliamentary wing of the National Resistance Movement has officially launched boycott of products from companies it claims are supporting Jubilee. Read more »
InFocus
Former Kilome Member of Parliament Harun Mwau and civil lawyers Njonjo Mue and Khelef Khalifa have cited the violation of constitutional provisions in the repeat poll as reasons ... Read more »

Raila Odinga, speaking for the first time since President Uhuru Kenyatta's win, has called the election fraudulent and vowed not to recognise him and his government. He says he ... Read more »

Addressing his supporters at Uhuru Park in Nairobi, Raila Odinga has said the National Super Alliance had transformed from a political coalition to "a resistance movement". He has ... Read more »