Dismiss Election Petitions, Kenyatta Asks Supreme Court
President Uhuru Kenyatta believes the repeat presidential poll was conducted in "accordance with the Constitution". He has asked the Supreme Court to dismiss petitions filed by former Kilome lawmaker Harun Mwau and activists Njonjo Mue and Khelef Khalifa.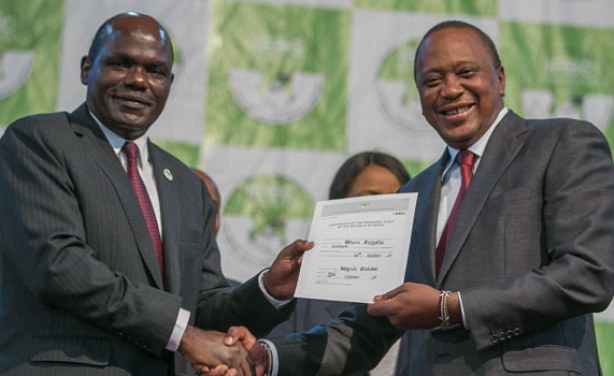 Independent Electoral and Boundaries Commission boss Wafula Chebukati declares Uhuru Kenyatta winner of the October 26 repeat poll. Kenyatta garnered 7,483,895 votes accounting for 98.26% of the total votes cast.
Kenya: Parties in Presidential Petition to File Written Submissions Monday

Capital FM, 13 November 2017

Focus will be on the Supreme Court this week as it seeks to determine three petitions challenging President Uhuru Kenyatta's re-election during last month's fresh presidential… Read more »

Kenya: Dismiss Poll Petitions, Uhuru Kenyatta Tells Supreme Court

Nation, 12 November 2017

President Uhuru Kenyatta on Sunday asked the Supreme Court to dismiss two election petitions challenging his win. Read more »

Kenya: Parties to Presidential Petitions Have Until Sunday 5pm to File Submissions

Capital FM, 12 November 2017

Respondents to presidential petitions lodged at the Supreme Court have until 5 pm Sunday to file responses. Read more »

Kenya: Opposition Says President Kenyatta Terrorised Its Supporters

Nation, 12 November 2017

President Uhuru Kenyatta intimidated National Super Alliance (Nasa) supporters after the August 8 election to discourage them from participating in the repeat poll, the Opposition… Read more »

Kenya: IEBC Broke Law in Conducting October 26 Poll - Harun Mwau

Nation, 12 November 2017

The failure by the electoral agency to subject presidential candidates to fresh nominations in the repeat poll on October 26 was fatal. Read more »

Kenya: Judges Dismiss Petitions Against Senator Kibiru, MP Theuri

Nation, 12 November 2017

Two election petitions were thrown out last week, bringing the number of those dismissed to 10. Read more »

Kenya: Kenyatta Fate Still Uncertain After Two Presidential Polls

Nation, 11 November 2017

Two presidential elections have been held in the last three months but it is not yet clear whether the incumbent Uhuru Kenyatta will serve his second term in office. Read more »

Kenya: Supreme Court Pre-Trial Conference on Petitions Set for Tuesday

Capital FM, 11 November 2017

The Supreme Court will convene a pre-trial conference on Tuesday as it races against time to determine three petitions challenging the validity of last month's repeat presidential… Read more »

Kenya: Any Outcome Is Possible in Petition, Including Annulment

Nation, 11 November 2017

Two numbers remain a source of discomfort for President Uhuru Kenyatta as he faces a fresh petition that seeks to annul his re-election as President in the repeat election held on… Read more »

Kenya: IEBC Official Admits to Errors As Election Petitions Continue

Nation, 10 November 2017

A returning officer on Friday admitted at the High Court in Mombasa that polling clerks posed as Jubilee and ODM agents and signed a result form at a polling station in Changamwe… Read more »

Kenya: Supreme Court, IEBC and Why Political Crisis Won't End Soon

Nation, 10 November 2017

There is little doubt that the next weeks will be bring immeasurable pressure on the judges of the Supreme Court as they delve into yet another cycle of election petitions… Read more »
InFocus
National Super Alliance leader Raila Odinga has told Americans that Western envoys have "lost the plot" in Nairobi by supporting the holding of a fresh poll despite concerns raised ... Read more »

The National Super Alliance had scheduled to hold demonstrations in Nairobi on November 10, to push for electoral reforms. Siaya Senator James Orengo says a new date for the ... Read more »

The opposition National Super Alliance's call could cause massive job losses of between 70,000 and 100,000, "affecting a million livelihoods". Other than Safaricom, Nasa has urged ... Read more »