Deadly Floods - Anxiety as Kenya Schools Reopen
The death toll continues to rise as Kenya counts the cost of destruction to homes and infrastructure across the country in the last few weeks, leaving thousands of people displaced. Since most public learning institutions are housing displaced families, it will be difficult for learners to focus on schoolwork once schools reopen, the Kenya National Union of Teachers Kilifi branch secretary has said.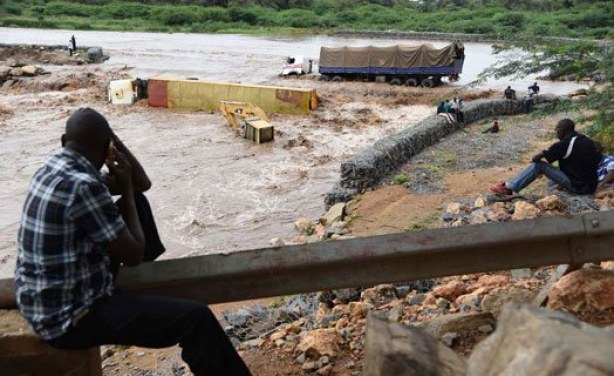 Vehicles submerged in River Malmalte on the Kapenguria-Kainuk-Lodwar Road following heavy rains which left motorists stranded on either side of the road connecting West Pokot and Turkana counties.
Kenya: Anxiety in Flood-Hit Counties as Schools Reopen

Nation, 29 April 2018

Education stakeholders in the Coast region have asked the government to postpone reopening of schools due to the devastation caused by floods. Read more »

Kenya: Schools Reopen to Heavy Rains, Transfer of Teachers

Nairobi News, 29 April 2018

Schools reopen on Monday for the second term with several activities lined up. But, as they head back to school, some challenges await the learners, among them floods which have… Read more »

Kenya: Coast Counties Drowning in Floods as Rivers Break Banks

Nation, 29 April 2018

More than 159,000 people in Tana River, Kilifi and Lamu counties have been displaced by floods with this year's deluge being compared to the 1997-1998 destructive El Niño… Read more »

Kenya: Floods Render Over 3,000 Lamu Residents Homeless

Nation, 29 April 2018

More than 3,000 Lamu residents have rendered homeless after their houses were swept away by floods. Read more »

Kenya: Six Killed, Thousands Displaced By Heavy Rainfall

Nairobi News, 29 April 2018

Hundreds of people have been evacuated by boats and canoes as floods caused at least six deaths between Friday night and on Saturday. Read more »
InFocus
More than 20 people have drowned in various rivers in Mwingi county since the beginning of the rainy season. Meanwhile, at the coast, fear has gripped Tana River residents ... Read more »

At least 15 people have been killed by floods and another 2,000 have been displaced by heavy rains in several parts of the country while some 1,800 people have been marooned in the ... Read more »

Motorists have been stranded again in Suswa area after flash floods cut off the busy road that has been affected by the country's gradual splitting at the Rift Valley after massive ... Read more »