Rwandan Women Take Majority of Parliamentary Seats
Women will take 67.5% of seats in the next Lower House going by the latest results from the just-concluded parliamentary elections. Given that 64% of parliamentarians in the outgoing chamber of deputies were women, the increased number of women parliamentarians in the house has been applauded by many.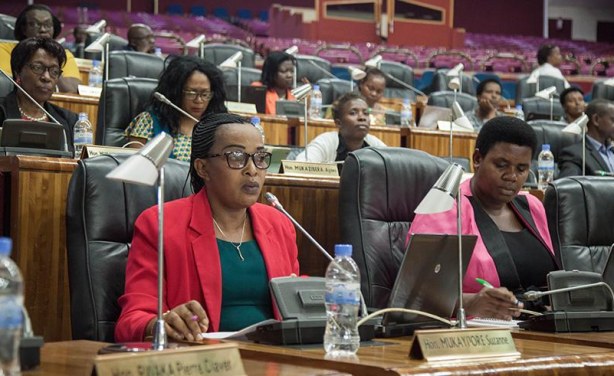 Women in parliament (file photo).
Rwanda: Green Party, PS-Imperakuri Win Seats in Next Parliament

New Times, 5 September 2018

Democratic Green Party of Rwanda and PS-Imberakuri have for the first time secured seats in the Lower Chamber of Parliament, with each getting two seats from general elections held… Read more »

Rwanda: We Are Grooming the Youth to Take Over Conservation - Akamanzi

New Times, 5 September 2018

As one of the country's long term environmental protection strategies, the Government is working on grooming the youth to take over the custodianship of the nation's future… Read more »

Rwanda: Kamanzi, Maniriho Are the Youth Representatives in Parliament

New Times, 5 September 2018

A total of 26 candidates from across the country on Tuesday contested for the two parliamentary seats reserved for the youth in an indirect election held at the headquarters of the… Read more »

Rwanda: Legislative Polls - What Is the Way Forward for Independents?

New Times, 4 September 2018

Independent candidates who participated in the just-concluded legislative elections have welcomed the polls results even though none of them will be able to win a seat in the next… Read more »

Rwanda: It's a Landslide for RPF-Inkotanyi

New Times, 4 September 2018

The governing RPF-Inkotanyi is headed for a landslide victory from Monday's legislative elections, according to partial results released last night by the National Electoral… Read more »
InFocus
More than 500 candidates from five political parties and four independent candidates took part in the election. Read more »

Voting material has been dispatched across the country as over 7.1 million Rwandans prepare to cast their votes in the parliamentary polls due to take place from September 2 to 4. ... Read more »

As parliamentary polls approach, candidates from different politicial divides have been making pledges in their quest to be elected into office, with some promising to address ... Read more »