Ex-Minister and Bring Back Our Girls Founder to Run for President
Obiageli Ezekwesili, a former vice president for Africa at the World Bank, served in Nigeria's government between 2000 and 2007, first as minerals minister and later education minister. She is a co-founder of the Bring Back Our Girls movement campaigning for the release of more than 200 girls kidnapped by Boko Haram in 2014. She will be the first prominent woman to challenge an incumbent president.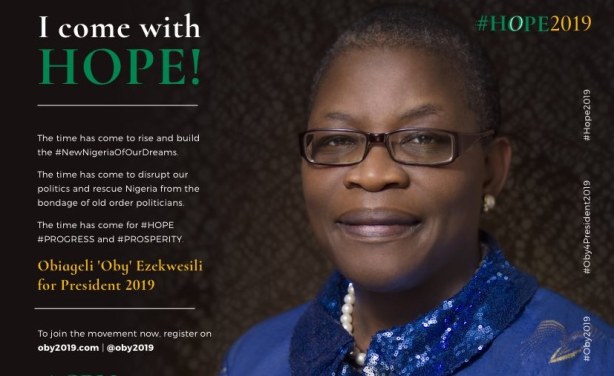 Oby Ezekwesili is Running for President in 2019
Nigeria: 2019 Election Will Be Tough, Brutal, Says Ezekwesili

Guardian, 9 October 2018

Convener of the Bring Back Our Girls campaign, Mrs. Obiageli Ezekwesili, has cautioned that the forthcoming 2019 general election would be tough and brutal. Read more »

Nigeria: Oby Ezekwesili Emerges Presidential Candidate

Premium Times, 7 October 2018

Nigeria's former minister of education and co-founder of the 'Bring Back Our Girls' movement, Oby Ezekwesili, has joined the growing number of candidates aiming to unseat President… Read more »

Nigeria: Oby Ezekwesili - Nobility in Service

Guardian, 8 October 2018

Obiageli Ezekwesili was born in 1963. Ezekwesili holds a master's degree in International Law and Diplomacy from the University of Lagos, and a Master of Public Administration… Read more »
Obiageli (Oby) Ezekwesili, former education minister and World Bank executive has been at daily rallies demanding more action to find the Chibok girls.
Nigeria: Ezekwesili Joins Presidential Race

Leadership, 8 October 2018

Former Minister of Education and co-founder of the Bring Back Our Girls movement Dr. Obiageli Ezekwesili has joined the presidential race, thereby swelling growing number of… Read more »

Nigeria: Oby Ezekwesili, Others Get Presidential Tickets

Daily Trust, 8 October 2018

Ahead of the 2019 General Elections, the New Nigeria Peoples Party (NNPP), Accord (A), Allied Congress Party of Nigeria (ACPN), Zenith Labour Party (ZLP), Peoples Coalition Party… Read more »
InFocus
Nigeria went to polls on February 23 to pick a new president. Currently, President Muhammadu Buhari and former vice president Atiku Abubakar are the frontrunners in the 2019 race ... Read more »