Taxi Commuters Bearing Aftermath of Fuel Shortage in Zimbabwe
Commuters are already bearing the consequences of the fuel shortage gripping the country as operators are already hiking taxi fares. This is despite the Central Bank Governor John Mangudya revealing that U.S.$40 million had been availed for the procurement of fuel.
Zimbabwe: Taxi Operators Hike Fares

New Zimbabwe, 8 October 2018

The worsening fuel shortage gripping the country has seen commuter operators hiking fares in Midlands cities. Read more »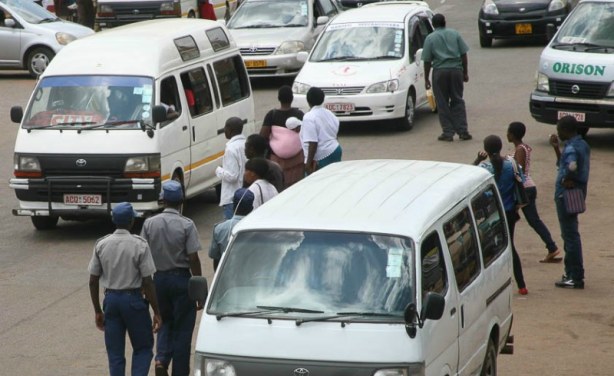 Taxi rank (file photo).
Zimbabwe: Central Bank Releases U.S.$41 Million for Fuel

The Herald, 8 October 2018

Fuel queues that resurfaced in most parts of the country over the weekend are expected to ease this week following the release of US$41 million by the Reserve Bank of Zimbabwe… Read more »

Zimbabwe: Panic Grips as Basic Commodities Prices Skyrocket

Zimbabwe Standard, 7 October 2018

Fuel shortages intensified across the country as long queues formed at service stations that were selling the commodity amid widespread panic-buying of basic goods blamed on… Read more »

Zimbabwe: Finance Minister Ncube Dreams of a Vital Regional Fuel Port

263Chat, 2 October 2018

Finance and Economic Development Minister, Professor Mthuli Ncube, has proposed the creation of a world-class "Regional Fuel Dry Port" out of the Mabvuku Loading Gantry and Msasa… Read more »

Zimbabwe: Proposed Fiscal Reforms to Bring Finances Under Control

New Zimbabwe, 2 October 2018

Introduction Read more »

Zimbabwe: Finance Minister Ncube Off to IMF Meetings

New Zimbabwe, 8 October 2018

Finance minister Mthuli Ncube left Harare Saturday afternoon for Indonesia where he will attend meetings of the International Monetary Fund and the World Bank. Read more »

Zimbabwe: Fixing the Economy Not a Stroll in the Park

The Herald, 8 October 2018

This is not time for cosmetic economic reforms. It is time for corrective surgery, painful as it might be. And, painful as it should be, the Government of Zimbabwe has understood… Read more »

Zimbabwe: 'Renewed Confidence to See Economy in Strong Growth'

New Zimbabwe, 8 October 2018

Zimbabwe's economy is projected to grow by 9 percent in 2019 and a further 9.7 percent in 2020 supported by renewed business confidence in the economy, finance minister Mthuli… Read more »

Zimbabwe: Govt Disburses U.S.$20 Million for Fuel Imports

The Herald, 22 September 2018

GOVERNMENT has disbursed $20 million towards the importation of fuel as it moves to ease the supply gap across the country, which has seen some towns suffering temporary shortages… Read more »
InFocus
Zimbabwe's Central Bank has directed banks to open separate accounts for local and foreign currencies in a fresh attempt to solve the country's cash crisis. Bond notes are a ... Read more »

A U.S.$3,5 million Bugatti Veyron was offloaded at Robert Mugabe International Airport - but people are asking who buys a car for that much to drive on Zimbabwe's pothole-ridden ... Read more »