Workers Defy Ban to Protest New Zimbabwe Tax
The Zimbabwe Congress of Trade Unions has called for national protests as the country's economic crisis worsens, but police say they would halt any demonstrations in Harare due to a cholera outbreak. The plan to protest has been triggered by sharp price hikes and a new tax on electronic transactions which businesses and ordinary people have objected to, arguing that it eats into their earnings while funding extravagant government spending.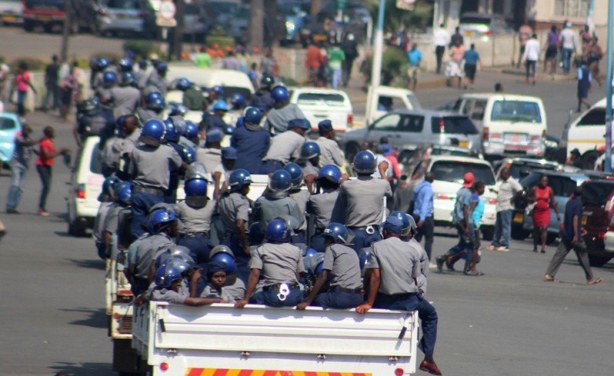 Zimbabwe riot police (file photo).
Zimbabwe: Police Say They Will Stop Protests Against New Tax

VOA, 10 October 2018

Police in Zimbabwe say they will stop planned protests in the capital against a new tax on money transfers. Read more »

Zimbabwe: Workers Union Calls for National Shutdown As Economy Burns

263Chat, 9 October 2018

Workers Union mother body, Zimbabwe Congress of Trade Unions (ZCTU), has called for a national demonstration on Thursday against new financial reforms which it described as… Read more »

Zimbabwe: Ncube Grilled Over Govt Bid to Pass On Debt Burden to Citizens

New Zimbabwe, 9 October 2018

Zimbabweans based in the United Kingdom Monday took Finance Minister Mthuli Ncube to task over his decision to impose a 2 percent tax on their overburdened compatriots back home… Read more »

Zimbabwe: No Going Back On 2 Cents Tax - Mnangagwa

The Herald, 9 October 2018

President Mnangagwa yesterday said the Intermediary Money Transfer Tax of 2 cents will remain in force as it is critical in transforming the economy, which has suffered from two… Read more »

Zimbabwe: Don't Despair, Price Increases Are Only Temporary

The Herald, 10 October 2018

Reports of price increases in Zimbabwe are worrying, but it's definitely a temporary issue that will change soon for the better. Read more »

Zimbabwe: Chamisa Speaks About the Ongoing Crisis

263Chat, 8 October 2018

Nelson Chamisa's led Movement for Democratic Change (MDC) has called on President Emmerson Mnangagwa to urgently deal with legitimacy issues saying there is need for a national… Read more »

Zimbabwe: New Measures Will Take Us to Steady Economic Growth - Mnangagwa

263Chat, 8 October 2018

Read below, statement from President Emmerson Mnangagwa on the state of the economy; Read more »

Zimbabwe: More Tough Times As Dairibord Hikes Own Prices

New Zimbabwe, 6 October 2018

Zimbabweans should brace for a bumpy ride under Zanu PF's new administration as the country's largest dairy milk products producer, Dairibord Zimbabwe Private (Ltd) Friday… Read more »
InFocus
Commuters are already bearing the consequences of the fuel shortage gripping the country as operators are already hiking taxi fares. This is despite the Central Bank Governor John ... Read more »

The Zimbabwe government has changed the tax on all electronic transactions from 5 cents per transaction (no matter how large) to 2 cents per dollar. Finance and Economic ... Read more »

Zimbabwe's Central Bank has directed banks to open separate accounts for local and foreign currencies in a fresh attempt to solve the country's cash crisis. Bond notes are a ... Read more »