No Freedom Yet For Kenyan TV Anchor Maribe, Fiance
On October 24, Citizen TV journalist Jacque Maribe and her fiance Joseph Irungu are set to be informed when their application for bail will be heard after spending almost a month in remand. The two are accused of murdering 28-year-old businesswoman Monica Kimani on September 19 in Kilimani.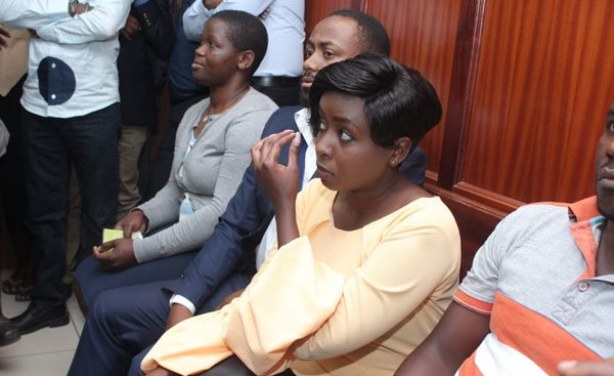 Joseph Irungu (second, left) and his girlfriend Jacque Maribe (second, right) in court on October 17, 2018.
Kenya: Maribe and Jowie Murder Case Due Wednesday for Bail Hearing

Capital FM, 17 October 2018

Citizen TV journalist Jacque Maribe and her fiance Joseph Irungu alias Jowie are expected back in court Wednesday morning for the mention of a case they are charged with Monica… Read more »

Kenya: Jacque Maribe, Joseph Irungu Due in Court for Bail Application

Nation, 17 October 2018

The two suspects in the murder of businesswoman Monica Kimani are set to make applications to be released on bail on Wednesday after spending almost a month in remand. Read more »

Kenya: TV Anchor Maribe, Fiance Due in Court for Bail Application

Citizen, 17 October 2018

The two suspects in the murder of businesswoman Monica Kimani are set to make applications to be released on bail on Wednesday after spending almost a month in remand. Read more »

Kenya: Maribe - I Have Cooperated With Police, Free Me

Nation, 17 October 2018

TV Journalist Jacque Maribe wants to be freed on bail, saying there are no compelling reasons to continue holding her. Read more »

Kenya: Murder Case - Why Detectives Oppose Release of Irungu and Maribe

Nation, 16 October 2018

A few minutes after 4pm on September 19, Joseph Kuria Irungu left Lang'ata for the leafy Kilimani suburb of Nairobi. Read more »

Kenya: Excerpts From Jacque Maribe's Statement

Nation, 16 October 2018

In filings to the High Court, the prosecution included the following excerpts from the statement given by Ms Maribe Read more »
InFocus
Television journalist Jacque Maribe and her fiancé Joseph Irungu, alias 'Jowie', have pleaded not guilty to murder charges after the death of Monica Kimani. The two will ... Read more »

Citizen TV journalist Jacque Maribe's lawyer has stated that Maribe will now take plea with her co-accused and fiance Joseph Irungu who is the main suspect in the murder of Monica ... Read more »

The Director of Public Prosecutions has ordered criminal charges against TV anchor Jacque Maribe and her boyfriend Joseph Irungu - also known as Jowie - over the murder of Monica ... Read more »