Donald Trump's Embassy Move Linked to Al-Shabaab Attack in Kenya
After speculation that the attack in the Nairobi hotel which claimed over 20 lives was revenge on the decision by the Kenyan government to deploy its troops in to Somalia, Al-Shabaab now says that they attacked the upmarket complex because of the U.S. decision to move its Embassy in Israel to Jerusalem. In 2018, Trump announced his decision to move the embassy from Tel Aviv, calling it "a long-overdue step to advance the peace process and to work towards a lasting agreement".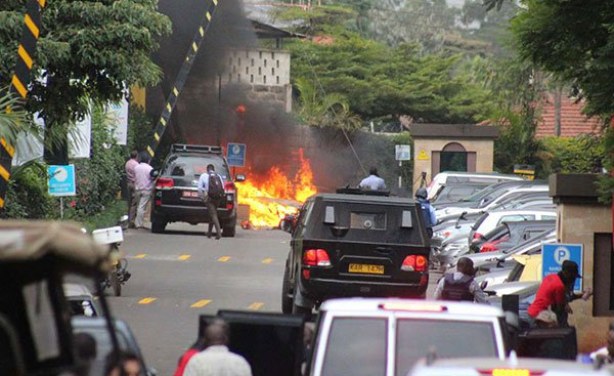 The scene of the terror attack at the DusitD2 hotel in Nairobi on January 15, 2019.
Kenya: Donald Trump's Embassy Move Linked to Al-Shabaab Attack

Dalsan Radio, 16 January 2019

There has been a fresh twist to the motive of the Al-Shabaab attack on Nairobi's DusitD2 hotel which so far has claimed over 20 people with the US President Donald Trump being in… Read more »

Kenya: Police Find Explosive in Dusit Hotel

Nation, 17 January 2019

Bomb experts on Thursday found an explosive in the Dusit office park where terrorists stormed on Tuesday in an attack that left 21 people dead. Read more »

Kenya: Why Photographs of Dead in Nairobi Terror Attack Failed Journalism

The Conversation Africa, 17 January 2019

An article by the New York Times on the Riverside terrorist attacks in Nairobi has provoked fury and consternation in Kenya. Read more »

Kenya: Dusit Attack - Two Suspects Arrested in Police Raids

Nation, 17 January 2019

Detectives in Nairobi arrested two suspects in connection to the terror attack at 14 Riverside office park that left nearly a dozen people dead. Read more »

Kenya: Kenya Red Cross Says 19 Still Unaccounted for After Dusit Attack

Nation, 17 January 2019

Nineteen people are still unaccounted for more than 24 hours after Kenyan forces ended Dusit siege that claimed 21 lives. Read more »

Kenya: Death Toll in 14 Riverside Drive Attack Rises to 21

Capital FM, 16 January 2019

The death toll following the Riverside Drive terrorist attack has risen to 21 after six more bodies were retrieved from the complex on Wednesday evening. Read more »

Kenya: Survivors Recount Tales of Horror, Miraculous Escape

Nation, 16 January 2019

For Ezra Kimondo, it was business as usual as he reported to work early in the morning at around 8.30am ready for his daily routine as the head of Customer Service at Brighter… Read more »

East Africa: South African Killed in Nairobi Attack

News24Wire, 16 January 2019

One of those killed in the attack on the DusitD2 complex in Nairobi, Kenya, has been named as South African Luke Potter. Read more »

Kenya: Why Attackers Targeted Riverside Complex

Nation, 17 January 2019

"DusitD2 Nairobi is a vibrant city hotel retreat where style, entertainment and art converge. Cocooned away from the city's hustle and bustle and in a secure and peaceful haven off… Read more »

Kenya: Hotel Attack Highlights Country's Security Challenges

Deutsche Welle, 16 January 2019

Kenya's security agencies are under scrutiny following the latest attack on a hotel compound. Analysts say it's a sign that al-Shabab is still very much a force to be reckoned… Read more »

Kenya: Why Al-Shabaab Targets Kenya, and What Can Be Done to Stop Attacks

The Conversation Africa, 16 January 2019

Al-Shabaab has claimed responsibility for the terror attack in Nairobi in which at least 14 people were killed and scores injured. The question the terror attack raises is why the… Read more »

Kenya: Football Federation Condemns 14 Riverside Attack

Nation, 17 January 2019

Football Kenya Federation on Wednesday joined other Kenyans in condemning the terrorist attack on 14 Riverside Drive on Tuesday. Read more »

Kenya: Muslim Clerics Join Other Religious Leaders to Condemn Terror Attack

Capital FM, 16 January 2019

Muslim leaders have joined other clerics to condemn Tuesday's terror attack that claimed 14 lives. Read more »

Kenya: Opposition Chief Odinga Condemns Riverside Drive Attack

Capital FM, 16 January 2019

Orange Democratic Movement party leader Raila Odinga has joined other Kenyans in condemning the 14 Riverside Drive terror attack that left 14 people dead. Read more »
InFocus
President Uhuru Kenyatta has announced that the terrorist attack at the Dusit office park that left 14 civilians dead has ended. 700 people were rescued from the complex. Read more »

The Daily Nation is reporting that explosions and heavy gunfire have been heard as security officers engage suspected terrorists on Wednesday morning inside the Grosvenor Hotel in ... Read more »