Walkway Collapse at South African School Leaves Four Pupils Dead
A fourth pupil from a South African high school has died following an accident at the school, Gauteng MEC for Education Panyaza Lesufi has confirmed. Twenty learners from Hoërskool Driehoek remain in hospital after a bridge connecting two blocks of the school buildings collapsed on Friday morning. The incident happened few minutes after 8am when learners were heading to their classrooms from the morning assembly. Roydon Olckers, Jandré Steyn and Marli Currie lost their lives in the tragedy, while on Sunday, a fourth pupil, Marnus Nagel, succumbed to his injuries.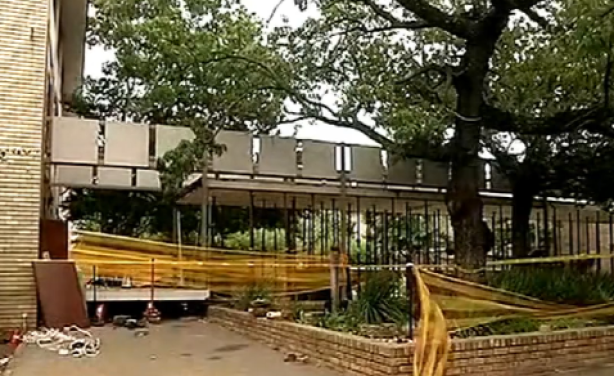 The scene at Hoërskool Driehoek in Vanderbijlpark after a walkway collapsed.
South Africa: Fourth Learner Dies in Hoërskool Driehoek Disaster

News24Wire, 3 February 2019

A fourth Hoërskool Driehoek learner has died, Gauteng MEC for Education Panyaza Lesufi confirmed on Sunday. In a tweet, Lesufi sent his condolences to the family and said they… Read more »

South Africa: Driehoek Pupil's Mother in ICU After Car Crash - Daughter

News24Wire, 3 February 2019

The woman who was seriously injured while on her way to Höerskool Driehoek in Vanderbijlpark on Friday is in intensive care, her daughter said. Read more »

South Africa: Driehoek Comments - Opposition Reports Black Land First to Human Rights Body

DA, 2 February 2019

As the country mourns the loss of 3 lives of learners who tragically died at Hoërskool Driehoek, the BLF has spread some of the most vile sentiments. Read more »

South Africa: Come Together for Driehoek Says Ramaphosa

News24Wire, 2 February 2019

President Cyril Ramaphosa has offered his deepest sympathy to the friends and family of the three children who died when a walkway collapsed at Höerskool Driehoek in… Read more »

South Africa: Most Victims of Höerskool Driehoek Tragedy Remain in Hospital, Some Still Critical

News24Wire, 2 February 2019

Twenty Hoërskool Driehoek pupils remain hospitalised in Vanderbijlpark and other parts of Gauteng. Read more »

South Africa: 'My Son Is Now in Heaven', Distraught Father Tells Hoërskool Driehoek Mourners

News24Wire, 1 February 2019

A distraught father, who lost his child after a structure collapsed on top of 26 pupils and claimed three lives at Hoerskool Driehoek in Vanderbijlpark, says his son is with God in… Read more »

South Africa: Parents Pray At Vanderbijlpark School After Three Pupils Die in Structural Collapse

News24Wire, 1 February 2019

Shocked parents and teachers gathered on the school grounds of Hoërskool Driehoek in Vanderbijlpark on Friday morning as paramedics worked to try to retrieve the bodies of… Read more »

South Africa: 'Their Screams Are Still Lingering in My Mind' - Witness to Hoërskool Driehoek Tragedy

News24Wire, 1 February 2019

An employee at Hoërskool Driehoek in Vanderbijlpark, said she was tormented by the images of the falling concrete slab, which led to the death of three pupils on Friday… Read more »
Video
Author:

SABC Digital News

Publisher:

Publication Date:

4 February 2019

Hoërskool Driehoek in Vanderbijlpark will remain closed on Monday following an accident that killed three pupils on Friday. The incident claimed ... see more »