U.S. Judge Dismisses Namibian Genocide Claims Against Germany
New York Federal Judge Laura Taylor Swain has dismissed a compensation lawsuit lodged against Germany by two Namibian tribes for genocide and property seizures in colonial times. Herero leader Vekuii Rukoro says lawyers for the tribes will lodge an appeal "with immediate effect." In the early 1900s, colonial troops killed tens of thousands of protesting Nama and Herero in the Omaheke desert region in what was then known as German South West Africa.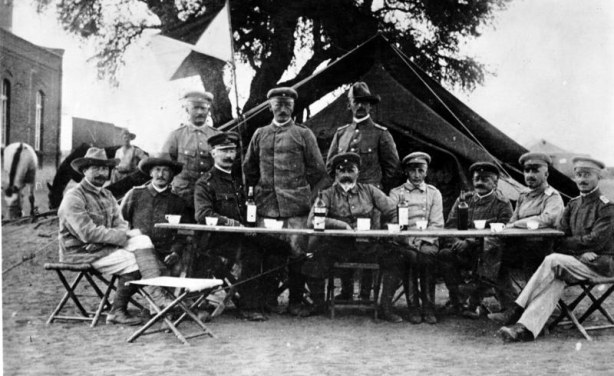 German troops in Keetmanshoop during the Herero uprising in 1904.
Namibia: First Apology From a German Govt Official for Atrocities

Namibia Economist, 6 March 2019

The return of Nama Captain, Hendrik Witbooi's personal Bible and whip, has produced the very first semi-official apology from a German government official, for the atrocities… Read more »

Namibia: Dispute Over Return of the Witbooi Bible

Deutsche Welle, 27 February 2019

A museum in Stuttgart has returned to Namibia a bible and whip that once belonged to Chief Hendrik Witbooi after more than 120 years, a step towards reconciliation between Germany… Read more »

Namibia: Lawmakers Seek Justice From Germany On Genocide

Deutsche Welle, 23 February 2019

A delegation of Namibian lawmakers is in Berlin to vigorously push for an agreement with Germany on the genocide it committed against the Nama and Herero people of Namibia more… Read more »

Namibia: Germans Must Acknowledge Genocide - Geingob

Namibian, 1 March 2019

PRESIDENT Hage Geingob yesterday said the German government must acknowledge the 1904-1908 genocide in Namibia. Read more »

Namibia: Decision On Genocide Reparations Deferred

Namibian, 6 August 2018

INTERNATIONAL media reported last week that United States judge Laura Taylor Swain has postponed making her decision on whether to hear the lawsuit in which Namibian communities… Read more »

Namibia: Germany Urges U.S. Court to Dismiss Lawsuit Over Genocide

Namibian, 1 August 2018

A lawyer for Germany on Tuesday urged a U.S. judge to dismiss a lawsuit brought against the country on behalf of the Herero and Nama people of what is now Namibia over genocide and… Read more »
InFocus
Finally, Germany will hand back human remains seized from Namibia over a century ago after the slaughter of indigenous people under German colonial rule - but descendants of the ... Read more »

Despite Germany's acknowledgement of the atrocities that occurred at the hands of its colonial authorities, it has repeatedly refused to pay direct reparations - and now wants the ... Read more »

The start of the negotiations in late 2015 marked a turning point after more than a century of German denialism. But now tangible progress seems elusive, and a crisis may be ... Read more »