Rescue Efforts Continue After Lagos Building Collapse
Lagos State Emergency Management Agency has said that at least 40 pupils have been rescued from the collapsed building. Residents have said that approximately 100 children attends the school, which is on the third floor of the building. The structure also houses offices, shops and residential units.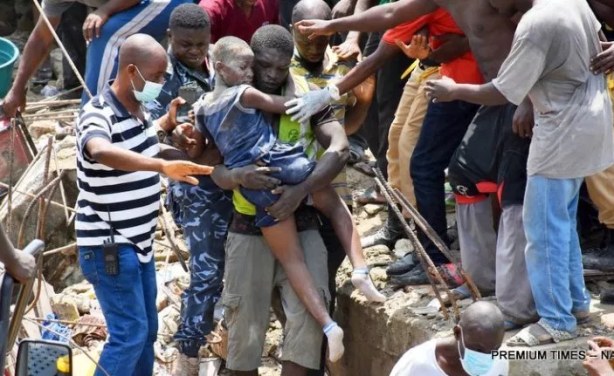 A child being rescued from the scene of a building, which collapsed at Itafaji on the Lagos Island on Wednesday.
Nigeria: Lagos School Building Collapse - Rescue Efforts Continue As Death Toll Rises

Premium Times, 14 March 2019

Rescue efforts continued into the night at Itafaji, Lagos Island, where a three-storey building collapsed Wednesday morning. Read more »

Nigeria: #LagosBuildingCollapse: Nigerians React

Premium Times, 14 March 2019

Widespread reactions have trailed Wednesday's collapse of a three-storey building housing pupils of Ohen Nursery and Primary School and tenants at Massey Street, Lagos Island. Read more »

Nigeria: Lagos Building Collapse - Residents Troop Out for Emergency Blood Donation

Premium Times, 14 March 2019

Residents of Lagos State have responded en masse to the call to come out and donate blood for the survivors of the building collapse at Ita Faji, Lagos Island. Read more »

Nigeria: Lagos Building Collapse - Victims' Families Protest Request for Payment Before Treatment

Premium Times, 14 March 2019

Families of survivors of the building that collapsed in Lagos on Wednesday staged a protest at the hospital premises, asking for help to save their surviving children, on Thursday. Read more »

Nigeria: Lagos Building Collapse - Tension As Residents Insist More Victims Still Trapped

Premium Times, 14 March 2019

Tension is currently on the rise in the Ita Faji area of Lagos as residents claim there are still victims trapped in the building that collapsed in the area Wednesday. Read more »

Nigeria: #LagosBuildingCollapse - What Ekweremadu Says

Vanguard, 14 March 2019

My heart goes out to the casualties of the collapsed school building on Lagos Island and their families and loved ones. Read more »

Nigeria: Building Collapse - Red Cross, Others Appeal for Blood for Victims

Vanguard, 14 March 2019

The Nigerian Red Cross (NRC) has appealed for blood donations for victims of the collapsed building on Lagos Island. Read more »

Nigeria: Pregnant Woman, Pupils Die in Lagos Collapsed Building

Premium Times, 14 March 2019

A pregnant woman, the proprietor of the nursery/Primary school and 19 others, including no fewer than 12 pupils died in the collapsed building at Massey Street, Itafaji on Lagos… Read more »

Nigeria: Over 1,000 Buildings Marked for Demolition Including Tragic House

Vanguard, 14 March 2019

Unless something urgent is done, we may be witnessing more building collapses, as over 1000 buildings in Lagos Island have been allegedly certified distressed. Read more »

Nigeria: 12 Pupils Dead, 45 Rescued in Lagos Building Collapse

Leadership, 14 March 2019

Lagos metropolis witnessed another tragedy yesterday when a three-storey building located at Massey Street, opposite Oja, Ita Faaji, Lagos Island, collapsed at about 10am, killing… Read more »

Nigeria: More Bodies Recovered From Lagos School Building Collapse

Premium Times, 13 March 2019

Six more people were recovered from the accident scene in Lagos where a three-storey building housing a children's school collapsed on Wednesday morning. Read more »

Nigeria: How School Children Died in Lagos Building Collapse

Daily Trust, 14 March 2019

A set of young twins were among pupils that died when a three-storey building housing their school collapsed at about 10am at Ita-Faji, on Lagos Island. Read more »

Nigeria: Eight Killed, 37 Rescued in Lagos Building Collapse

Guardian, 14 March 2019

Eight bodies were pulled out from a collapsed three-storey building in Lagos State yesterday. The structure, which contained a primary school, at 63 Massey Street, Itafaaji, Lagos… Read more »

Nigeria: Building Collapse - 20 Victims Rescued, Receiving Treatment - Lagos Govt

Premium Times, 13 March 2019

The Lagos State Government says 20 victims of the collapsed school building located at Itafaji in Lagos Island, are receiving treatment in some hospitals in Lagos. Read more »

Nigeria: How Lagos Building, Housing Children, Collapsed

Premium Times, 13 March 2019

Tragedy struck in Lagos on Wednesday when a three-storey building housing a children's school collapsed at Massey Street, Lagos Island. Read more »
InFocus
At least eight people have been killed after a three-storey school building collapsed in a densely populated area of Lagos. Thirty-seven people have been rescued from the ... Read more »