Heat Is On as Race for Nigerian Senate Presidency Begins
The battle for the position of senate president is heating up after Bukola Saraki lost his seat. Frontrunners for the top post includes Senator Ahmed Lawan, Senator Mohammed Ali Ndume, Senator Mohammed Danjuma Goje and Senator Abdullahi Adamu. Others are expected to join the race in the days ahead.
Nigeria: The Race for the Senate Presidency Heats Up

Vanguard, 31 March 2019

With all but two of the results of the February 23 National Assembly elections, as declared by the Independent National Electoral Commission, INEC, now in the public domain, what… Read more »

Nigeria: Ruling Party's Senate Presidency Crisis Deepens

Guardian, 28 March 2019

A group of senators-elect campaigning for Senate Leader Ahmed Lawan yesterday, dismissed claims by former Senate Leader Mohammed Ali Ndume as untrue and misleading. This has… Read more »

Nigeria: APC, PDP Set to Clash Over National Assembly Leadership

Daily Trust, 27 March 2019

The ruling All Progressives Congress (APC) and the opposition Peoples Democratic Party (PDP) are set to clash over the leadership positions in the coming 9th National Assembly,… Read more »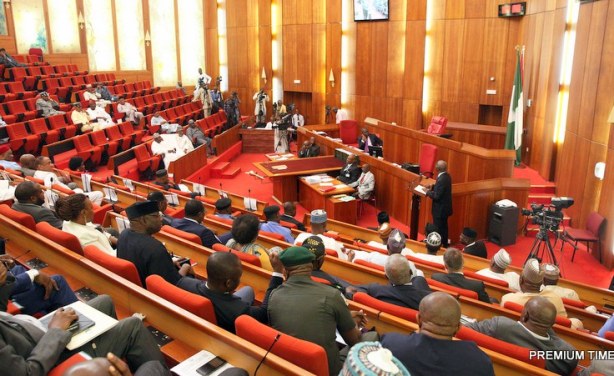 Nigerian Senate.
Nigeria: Ninth Senate - Gumel Laments Depletion of Ranking Senators

This Day, 27 March 2019

A member of the National Assembly, Senator Abdullahi Gumel, has expressed concern over the decline in the number of Senators returning to the 9th Senate. Read more »

Nigeria: Trouble Looms As Ndume Opposes Lawan's Adoption As Senate President

This Day, 27 March 2019

The ruling All Progressives Congress (APC) may face a major crisis in the election of the leadership of the ninth National Assembly as one of the aspirants for the office of the… Read more »

Nigeria: Cracks Emerge in APC's Senate Presidency Bid

Guardian, 27 March 2019

Bickering within the ruling All Progressives Congress (APC) over who becomes president of the Ninth Senate came to the fore yesterday with former Senate Majority Leader Muhammed… Read more »

Nigeria: Reps Spokesperson Joins Race for Office of Speaker

Premium Times, 26 March 2019

The Spokesman of the House of Representatives, Abdulrazak Namdas (APC-Adamawa), has declared his intention to run for the office of the Speaker in the 9th Assembly. Read more »

Nigeria: PDP Members Can Join Race for Senate Presidency, House Speakership - Party

Premium Times, 26 March 2019

The Peoples Democratic Party has reacted to moves by the ruling All Progressive Congress to ensure that its members fill up leadership positions in the ninth National Assembly. Read more »

Nigeria: Senate Presidency - Fresh Crisis Awaits APC As Ndume Vows to Challenge Lawan

Premium Times, 26 March 2019

Except Nigeria's ruling party puts its house in order, it risks making the same mistake it made in 2015 when Bukola Saraki emerged Senate President against the interest of the… Read more »

Nigeria: What I'll Do If Elected Senate President - Ahmed Lawan

Premium Times, 24 March 2019

Senate Leader, Ahmed Lawan, has promised to run a bi-partisan National Assembly if elected as Senate President. Read more »

Nigeria: Senator Begins Campaign for Senate Presidency

Premium Times, 25 March 2019

Yobe North Senator, Ahmed Lawan, has flagged off his campaign to become the next Senate President. Read more »

Nigeria: Why President May Not Receive National Assembly Report Soon

Vanguard, 26 March 2019

There are strong indications that President Muhammadu Buhari may not receive soon, report of the decisions of Senate and House of Representatives on the approved N30,000 as the… Read more »

Nigeria: Ndume Joins Senate Presidency Race, Writes Oshiomhole

Premium Times, 25 March 2019

The senator representing Borno South, Ali Ndume, has announced his intention to run for the office of the President of the Senate in the 9th National Assembly. Read more »

Nigeria: Actions, Decisions of Saraki-Led Senate Regrettable, Says Buhari

Daily Trust, 26 March 2019

President Muhammadu Buhari has frowned at some actions and decisions of the 8th National Assembly, saying such activities remain regrettable. Read more »

Nigeria: Buhari Hosts APC Senators-Elect As Ndume, Lawan, Others Jostle for Senate Presidency

Premium Times, 25 March 2019

President Muhammadu Buhari on Monday night hosted state governors and senators-elect of the All Progressives Congress (APC) to a dinner at the new Banquet Hall of the Presidential… Read more »

Nigeria: Ninth Assembly - APC Recommends Lawan for Senate Presidency

Daily Trust, 26 March 2019

The ruling All Progressives Congress (APC) yesterday recommended the Senate Leader, Ahmad Lawan (APC, Yobe) for the position of Senate President in the ninth Assembly, Daily Trust… Read more »

Nigeria: Enugu East Senatorial Seat - Nnamani to Know Fate April 8

This Day, 26 March 2019

Justice Inyang Ekwo of the Federal High Court, Abuja, will on April 8, decide on the eligibility of the senator-elect representing Enugu East senatorial district, Chimaroke… Read more »

Nigeria: APC, Newly-Elected Reps Parley On National Assembly Leadership

Guardian, 26 March 2019

The ruling All Progressives Congress (APC) yesterday met with 223 of its newly-elected members of the House of Representatives in a bid to ensure a smooth sail in determining… Read more »

Nigeria: Retired Generals' Waning Influence in Nigeria's Political Landscape

Guardian, 26 March 2019

By the year 1999, they were all over the place. Despite the much-expected transition from military rule to multi-party democracy, members of the Nigeria Armed Forces, both serving… Read more »

Nigeria: How 2019 Polls Dim Prospects of a Better Electoral Process

Guardian, 26 March 2019

Never before in the history of Nigeria's democracy has a general election lasted this long before its consummation. The Independent National Electoral Commission (INEC) has… Read more »
InFocus
The 2019 national assembly election threw up some of the biggest political heavyweight losses that Nigeria has ever witnessed. It was a surprise - and for some a shock - to find ... Read more »

Outoing Nigerian Senate President Bukola Saraki says he is praying that the people of his state will have the best from their elected officials at both the federal and state level. ... Read more »