Sudan Army Set to Make 'Important Announcement'
There is speculation that a coup attempt could be underway against Sudan's President al-Bashir, with State radio reporting that the army is set to make an "important" announcement soon. Protests demanding an end to Bashir's 30-year rule have grown since December amid spiralling inflation and corruption.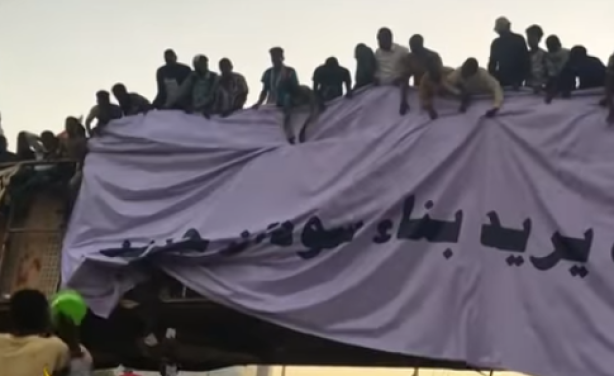 Protesters in Khartoum.
Sudan: UN Experts Condemn Excessive Use of Force At Protests

OHCHR, 11 April 2019

More than 20 people have been killed and over 100 injured since 6 April, the experts said, adding they had also received reports of widespread arrests and attacks on journalists by… Read more »

Sudan: Sit-Ins Continue in Khartoum, States

Radio Dabanga, 11 April 2019

On Wednesday, the demonstrations in Sudan calling for the overthrow of the regime continued with the sit-in in front of the General Command of the Army in the capital Khartoum,… Read more »

Sudan: Military Expected to Announce Coup Against President Omar Al-Bashir

Deutsche Welle, 11 April 2019

Sudan's military is to make "an important statement" amid speculation of a coup against President Omar al-Bashir following months of protests. Read more »

Sudan: Army Surrounds Omar Al-Bashir's Palace in Khartoum

Nation, 11 April 2019

The Sudanese army has surrounded presidential palace in the capital Khartoum following months of protests against Hassan Omar al-Bashir's rule. Read more »

Sudan: Ambassadors to Khartoum Meet AUHIP to Discuss Future

Radio Dabanga, 10 April 2019

The ambassadors of the USA, UK, Norway, France, and Germany to Sudan travelled from Khartoum to the Ethiopian capital of Addis Ababa last week for a meeting with the African Union… Read more »

Sudan: Could Army-Backed Protests Topple Omar Al-Bashir?

Deutsche Welle, 10 April 2019

Over the past days, thousands have defied violence to camp outside Sudan's Defense Ministry. Growing support within the army and police could tilt the campaign for al-Bashir's… Read more »

Sudan: Academics Have Shaped Political History, and May Do It Again

The Conversation Africa, 10 April 2019

Sudanese academics are taking a leading role in protests against President Omar al-Bashir. Moina Spooner from The Conversation Africa spoke to Willow Berridge about their role in… Read more »
InFocus
Protests outside the military headquarters in Khartoum continued into a fourth day in a resurgence of calls for Sudanese President Omar al-Bashir to step down. Clashes between the ... Read more »

Protesters in Khartoum are staging a continuing sit-in outside army headquarters, demanding the resignation of President Omar al-Bashir. The police have issued a communique ... Read more »

Thousands of Sudanese protesters have rallied outside the army's headquarters in the capital Khartoum, calling on the military to back their demand for President Omar al-Bashir to ... Read more »