Ruling Party Says Atiku Abubakar Is Not Nigerian
The All Progressives Congress has that presidential candidate of the Peoples Democratic Party Atiku Abubakar is not a Nigerian and based on that allegation, Abubakar was not qualified to have contested the presidential election. The party claimed that Abubakar is from Cameroon, adding that his petition against President Muhammadu Buhari should be dismissed for lack of merit.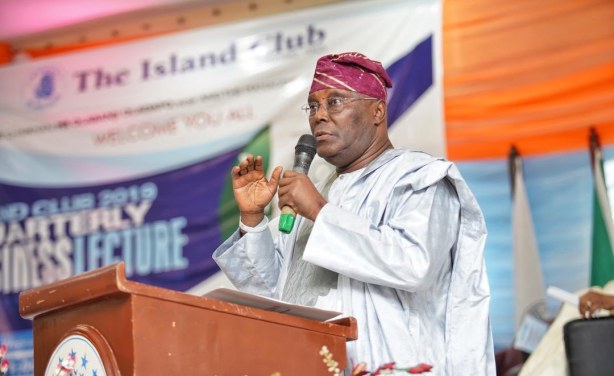 PDP presidential aspirant, Atiku Abubakar.
Nigeria: It's Nationality of Those Who Made Nigeria Extreme Poverty Capital That Is in Doubt, Not Mine - Atiku

This Day, 13 April 2019

The Presidential candidate of the Peoples Democratic Party (PDP) in the just concluded election, Alhaji Atiku Abubakar, has fired back at the ruling All Progressives Congress led… Read more »

Nigeria: Buhari, Atiku Non-Nigerians - Biafra Group

Vanguard, 15 April 2019

The Indigenous People of Biafra, IPOB, has described the ongoing altercations between the ruling All Progressives Congress, APC, and the opposition Peoples Democratic Party, PDP,… Read more »

Nigeria: 2019 Poll - Atiku an Alien, Not Qualified to Be President, APC Tells Tribunal

Vanguard, 13 April 2019

The All Progressives Congress, APC, has lodged an attack against the petition seeking to invalidate the re-election of President Muhammadu Buhari and branded the presidential… Read more »

Nigeria: APC's Claim On Atiku's Cameroonian Citizenship Diversionary - PDP

This Day, 15 April 2019

The Peoples Democratic Party (PDP) has described as "reckless and groundless" claim by the All Progressives Congress (APC) that its presidential candidate in the just concluded… Read more »

Nigeria: Frank Accuses Buhari, APC of Plotting to Arrest Atiku Abubakar

Vanguard, 12 April 2019

A political activist and former Deputy National Publicity Secretary of the All Progressives Congress (APC), Comrade Timi Frank, has accused President Muhammadu Buhari and the… Read more »

Nigeria: Atiku Not a Nigerian, Ruling Party Tells Presidential Election Tribunal

Premium Times, 12 April 2019

The All Progressives Congress (APC) has told the Presidential Election Petition Tribunal in Abuja that the candidate of the Peoples Democratic Party (PDP) in the February 23… Read more »
InFocus
The government has warned the Peoples Democratic Party presidential candidate Atiku Abubakar to stop his attempts at undermining the government through actions that may not have ... Read more »

Leader of the Indigenous People of Biafra Nnamdi Kanu has said that Atiku Abubakar is a Cameroonian "indigene". Kanu did not provide any evidence for his allegation, just as he ... Read more »