Sudanese Protesters Continue Sit-In
The organisers of ongoing protests in Sudan are demanding that the new military council be scrapped and have reiterated calls for a civilian government. The African Union, meanwhile, has given the military 15 days to hand over power. Should the army fail to achieve this, Sudan's membership in the bloc would be automatically suspended until a return to constitutional order, the AU's Peace and Security Council said.
Sudan: Protesters Continue Sit-In

Deutsche Welle, 15 April 2019

Protesters in Sudan have overcome army attempts to disperse their sit-in and resumed their calls for civilian rule. German Chancellor Angela Merkel is among those calling for a… Read more »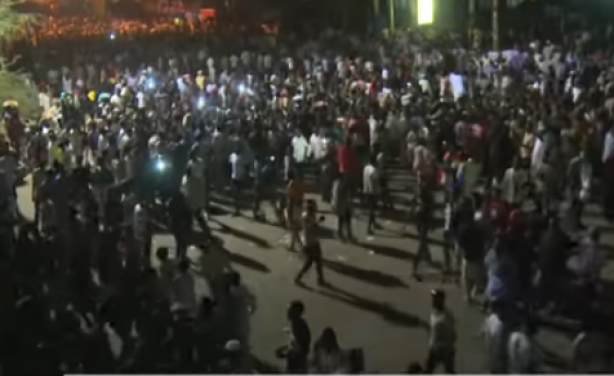 Sudanese demonstrators are calling for an immediate transition to a civilian government that will be in charge for the next four years.
Sudan: Sudan's New Vice-President Receives Western Diplomats in Khartoum

Radio Dabanga, 15 April 2019

The commander of the paramilitary Rapid Support Forces (RSF) Lt Gen Mohamed Hamdan (aka Hemeti), sworn-in as interim vice-president of Sudan and deputy-head of the Interim Military… Read more »

Sudan: Declaration of Freedom and Change Present 10 Points to Military Council

Radio Dabanga, 15 April 2019

On Saturday at a meeting with the Transitional Military Council, the delegates of the forces of Declaration of Freedom and Change presented 10 points representing their perception… Read more »

Sudan: Sit-Ins Across Sudan Demand Civilian Transitional Government

Radio Dabanga, 15 April 2019

On Saturday, the mainstream Sudan People's Liberation Movement (SPLM) in their areas of control Blue Nile state and other areas marched in solidarity with the sit-in in front of… Read more »

Sudan: JEM Calls for Release of All Darfur, Kordofan, Blue Nile War Detainees

Radio Dabanga, 15 April 2019

The Justice and Equality Movement (JEM) has called for the release of all prisoners and detainees as a result of the war in Darfur, Kordofan, and Blue Nile, similar to the release… Read more »

Sudan: Burhan's Appointment Deplored in Central and West Darfur

Radio Dabanga, 15 April 2019

Residents and displaced people in Central and West Darfur have expressed deep shock at the appointment of Lt Gen Abdelfattah Burhan as the head of the Transitional Military… Read more »

Sudan: Arab Parliament Supports Transitional Period in Sudan

SNA, 15 April 2019

The Chairman of the Arab Parliament, Dr. Mesha'al Bin Fahm al-Slmi, has announced his support appreciation to the response of the Sudanese armed forces to the demands of the… Read more »

Sudan: Country Can Avoid Past Mistakes By Drawing Lessons From Its History

The Conversation Africa, 15 April 2019

A military coup d'etat in Sudan has ended Omar al-Bashir's 30-year rule. Read more »
InFocus
The talks followed protests that saw the ouster and arrest of president Omar Al-Bashir. He was replaced by the military interim council led by Sudanese Defence Minister, Lt Gen ... Read more »

Lieutenant General Abdel-Fattah Burhan has said that he is committed to transferring power to a civilian government within two years. Burhan, who replaced the coup leader after he ... Read more »