Sudanese Accelerate Protests, Demand Democracy
After weeks of demands for civilian rule and deep institutional change that have brought hundreds of thousands of people to occupy the streets of Khartoum and have sparked protests across Sudan, demonstrators say they are breaking off talks with the ruling military council. The determined crowds forced military leaders to oust hated President Omar Hassan Ahmad al-Bashir - indicted for war crimes by the International Criminal Court - and hold talks with the Sudanese Professional Association and allied groups. But the military seems emboldened by an announced infusion of $3 billion from Saudi Arabia and the United Arab Emirates, while protestors say they will settle for nothing but a transition by civilian leaders to democratic elections.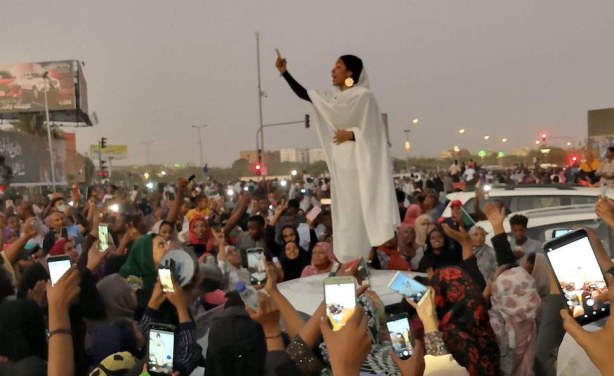 In what has become an iconic image of the Sudan protests, 22-year-old architectural engineering student Alaa Salah (@oalaa_salah) chants poetry from the top of a car, wearing traditional dress.
Sudan: The Sudanese Military - a Pawn of the Saudis?

Deutsche Welle, 22 April 2019

Saudi Arabia has shown support for the transitional military government in Sudan since the ousting of the country's longtime president. Observers suggest the Saudis are increasing… Read more »

Sudan: Talks Stop Amid Demands for Radical Change

allAfrica, 21 April 2019

Sudanese who have been protesting across the country have vowed to accelerate their demonstrations until a civilian government takes power. Read more »

Sudan: Darfur's Stability Threatened By Changes in Khartoum, UN Told

East African, 19 April 2019

Violence has resurged in Sudan's conflict-wracked Darfur region as the country undergoes drastic political transformation, the UN has been told. Read more »

Sudan: Sudan Protesters Suspend Talks With Military Leadership

Deutsche Welle, 21 April 2019

The military seized power earlier this month from President Omar al-Bashir. Protesters campaigning for a return to civilian rule have called off talks with the interim leaders,… Read more »

Sudan: Protesters - 'Sit-Ins Across Sudan to Continue Until All Demands Met'

Radio Dabanga, 21 April 2019

The organisers of the protests in Sudan have stressed their commitment to continue the sit-ins across the country "until the revolution of the Sudanese people achieves full… Read more »

Sudan: Joint Statement by the Forces of the Declaration of Freedom and Change on the Formulation of Transitional Civil Government

Sudanese Professionals Association, 19 April 2019

The Forces of the Declaration of Freedom and Change have arrived at a final conceptual framework for the structural functions of the Transitional Civil Authority. The process was a… Read more »

Sudan: Bashir's Greatest Mistake Was to Annoy Sudan's 'Mama Mboga'

Nation, 18 April 2019

Another African strongman is gone. After 30 years at the top, Sudan's Omar al-Bashir was finally ousted a week ago and arrested following months of protests. Read more »
Video
Publisher:

Publication Date:

21 April 2019

The organisers of the protests in Sudan stressed their commitment to continue the sit-ins across the country "until the revolution of the Sudanese ... see more »
InFocus
Reports have said that former president Omar Al-Bashir has been moved to Kobar prison where his opponents were incarcerated during his three decades in power - but protesters are ... Read more »

The talks followed protests that saw the ouster and arrest of president Omar Al-Bashir. He was replaced by the military interim council led by Sudanese Defence Minister, Lt Gen ... Read more »