Sudan Protesters Divided Over Call to Strike
The country's main opposition group, who has supported the protest movement, has rejected a call to stage a two-day general strike. This is the first sign of a rift within the movement negotiating the launch of civilian rule.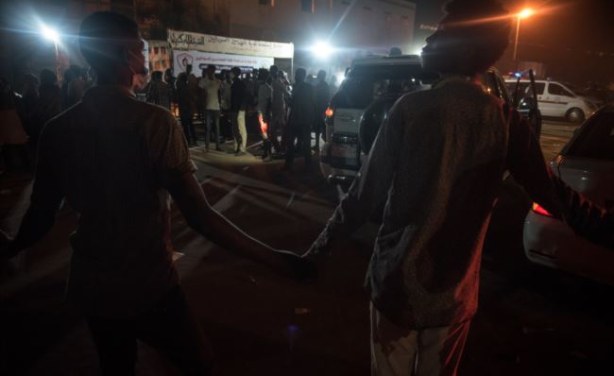 Protesters hold hands to create a cordon to create space for ambulances and other vehicles transporting wounded to hospital.
Sudan: Opposition Divided Over Strike Call

RFI, 26 May 2019

Sudan's main opposition group and supporter of the protest movement on Sunday rejected a call to stage a two-day general strike, in the first sign of a rift within the movement… Read more »

Sudan: Sudan Talks - El Mahdi Proposes Civilian Majority Govt With Military President

Radio Dabanga, 26 May 2019

El Sadig El Mahdi, chairman of the National Umma Party (NUP), has advised the Alliance for Freedom and Change (AFC) to agree on the formation of a Sovereign Council with a civilian… Read more »

Sudan: Gen. Yasser Al-Atta - Circles Attempt to Create Sedition Between Security Components

SNA, 26 May 2019

Member of the Transitional Military Council, Gen. Yasser Al-Atta, has lauded the role of the Armed Forces in keeping security, maintaining stability and preventing bloodshed. Read more »

Sudan: Sculptor Symbolizes Revolution in Expressive Wood Carving

SudaNow, 2 May 2019

Plastic painter, sculptor, Dr. Awad Eisa Omer has symbolized the prevailing spirit of cohesion, intimacy and solidarity among the masses sitting in at the Army General Command into… Read more »

Sudan: Sudan's Revolution - View From Abroad

SudaNow, 2 May 2019

A group of young kids have attracted the attention of one passing-by driver, who stopped to film what is going on. And the shots went viral. It said the time was around 1:00 am in… Read more »

Sudan: Sudan Friday Prayers - Sermons Protesting and Others Backing Military Junta

Radio Dabanga, 26 May 2019

During Friday prayers, the sit-ins in Khartoum and various other Sudanese cities witnessed varying speeches. Some of them were welcomed, other speeches were stopped. Read more »

Sudan: Sudan Uprising - Another Protester Dies, Professionals Call for More Actions

Radio Dabanga, 26 May 2019

On Friday, a man who was hit on the head during attacks on protesters at the sit-in in front of the Sudanese army command in Khartoum on May 13, succumbed to his wounds. The… Read more »
InFocus
The opposition has called for a general strike after the two sides failed to reach agreement on the formation of the proposed new government. Read more »

Though it has been declared that more than 80% of issues were settled in the past two sessions - including the main structure of sovereign, executive and legislative bodies, their ... Read more »