Deadly Fort Ternan Bus Crash - 'Journey Was Jinxed From Start'
"The bus was overloaded. Some passengers sat on crates," one survivor said from his hospital bed. Then there was an argument between the driver and the vehicle's four conductors. "When we got to Tunnel, the bus swerved. We screamed as it began rolling and then there was silence. I don't know what happened next because I passed out," Joseph Oponyo said.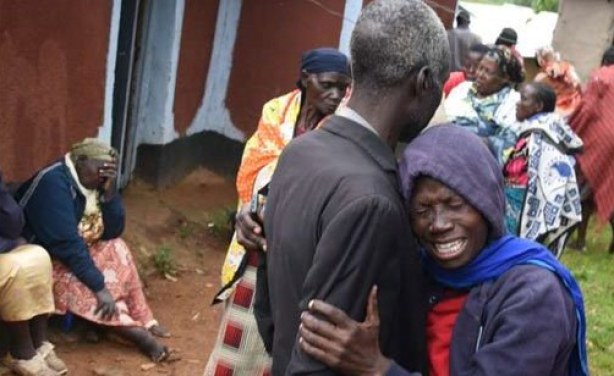 Family and friends mourn the death of five victims of the Fort Ternan crash in Muluanda, Kakamega County on October 11.
Kenya: Kericho Governor Pledges to Meet Accident Victims' Bills

Nation, 11 October 2018

The Kericho County government will meet the cost of treatment for 16 survivors of the Fort Ternan crash that left 56 people dead on Wednesday morning. Read more »

Kenya: Road Carnage Shows a Failed Safety Drive

Nation, 10 October 2018

Once again, the country has been thrown into mourning following the deadly bus crash that claimed at least 55 lives on the Londiani-Muhoroni road in the wee hours of Wednesday. The… Read more »

Kenya: Family Mourns 6 Members Killed in Fort Ternan Crash

Nation, 11 October 2018

Mulwanda Village in Kakamega County was plunged into mourning after six members of a family died in the bus crash at Fort Ternan, Kericho County on Wednesday. Read more »

Kenya: Bus Owner Defends Service, Driver But Can't Explain Flouting Law

Nation, 11 October 2018

Mr Cleophas Shimanyula grew up with moderate education, but he has become a household name in Western Kenya's public transport. Read more »

Kenya: Magufuli Sends Condolences to Kenya's President Following Tragic Bus Accident

Citizen, 10 October 2018

President John Magufuli has sent condolences to Kenya's President Uhuru Kenyatta following a bus accident that occurred at Kericho, in Kenya and claimed lives of over 50 people and… Read more »

Kenya: UN Boss António Guterres Says Saddened By Tragic Bus Crash

Nation, 11 October 2018

The United Nations Secretary General António Guterres has joined the list of leaders who have sent out their condolence messages to families of those bereaved by the tragic… Read more »

Kenya: Kericho Bus Crash Driver Was 72 Years Old

Nation, 11 October 2018

It used to be that the only remarkable thing about Fort Ternan was that it marked the place where Dr Louis Leakey, in 1961, discovered the fossils of an early human called… Read more »

Kenya: Londiani Killer Bus Owner Arrested as Death Toll Rises to 56

Capital FM, 11 October 2018

Police have arrested the owner of the bus involved in an accident that killed 56 people on the Londiani-Muhoroni Road, within Kericho County. Read more »
InFocus
The 67-seater bus veered off the road while descending a steep slope, then hit a guard rail, rolled and plunged down about 20 metres according to eye witnesses. Read more »