Kenya Remembers Those Who Died in the Riverside Drive Attack
In the aftermath of the attack on the Riverside Drive hotel and office complex in Nairobi, it is being reported that 11 people have been arrested and the Red Cross has issued a statement saying that all the missing have been accounted for. Stories of the events of the day are beginning to emerge, including the tale of how a hurriedly created WhatsApp group helped people in the hotel siege. And the long business of mourning those who lost their lives begins.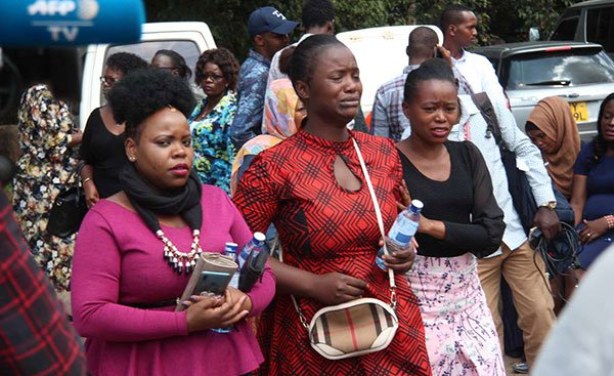 Friends and family members mourn victims of DusitD2 complex attack at Chiromo Mortuary in Nairobi on January 16, 2019.
Kenya: How WhatsApp Group Helped People Caught in Riverside Attack

Nairobi News, 18 January 2019

On the fateful day of the 14 Riverside Drive attack, I was on my laptop when reports reached me at about 3:50pm. My diary on January 15, 2018 included many things but creating a… Read more »

Kenya: All Missing People in Riverside Drive Attack Accounted For - Red Cross

Capital FM, 17 January 2019

All the 94 cases of people who were reported missing after the dusitD2 complex terror attack have been closed positively. Read more »

Kenya: Families Identify Kin After Dusit Attack

Nation, 18 January 2019

Families of the DusitD2 Hotel terror victims bore the agony of mixed-up details amid delayed and scanty information from the authorities as they camped all day in sweltering heat… Read more »

Kenya: In Memory of 'Odu Cobra' and All Victims of Riverside Drive Terror Attack

Nation, 18 January 2019

My good friend and colleague Japheth Mutinda, who edits this column, is one of the biggest football fans I know. Read more »

Kenya: Friends, Family Mourn Young Woman Killed in Riverside Terror Attack

Nairobi News, 17 January 2019

A quick inspection on Tish Mutindi (a victim of the Tuesday Terror attack at Dusit D2 Hotel) reveals how much she was loved by friends and family. Read more »

Kenya: Man Who Was Monitoring CCTV Among People Killed in Terror Attack

Capital FM, 17 January 2019

A man who was manning CCTV cameras at the dusitD2 complex is among 21 people killed in Tuesday's terror attack that left several others injured. Read more »

Kenya: Hotel Lost 4 Employees in Terror Attack, Will Remain Closed

Capital FM, 17 January 2019

The management of the dusitD2 hotel has said that four of employees lost their lives while three others are admitted to hospital out of the 100 who where on duty that day. Read more »
InFocus
After speculation that the attack in the Nairobi hotel which claimed over 20 lives was revenge on the decision by the Kenyan government to deploy its troops in to Somalia, ... Read more »

President Uhuru Kenyatta has announced that the terrorist attack at the Dusit office park that left 14 civilians dead has ended. 700 people were rescued from the complex. Read more »