Mnangagwa Returns Home As Activists Call for New Shutdown
Anti-government activists in Zimbabwe have called for a second, and this time five-day, shutdown protest beginning on Monday, prompting the administration to warn that "we will not hesitate to enforce the law". President Emmerson Mnangagwa, who has been on a trip in Europe, announced he will return home without going to the World Economic Forum summit in Davos.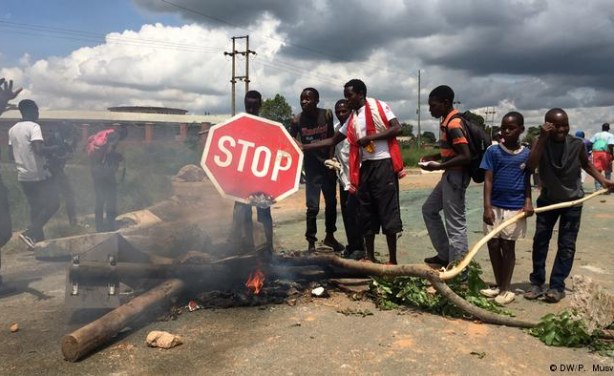 Police were deployed across Harare after protesters blocked a number of roads (file photo).
Zimbabwe: Activists Call for a New 5-Day Shutdown Protest

New Zimbabwe, 21 January 2019

Anti-government activists have called for a second, and this time five-day, shutdown protest beginning Monday, prompting the administration to warn that "we will not hesitate to… Read more »

Africa: South Africa Plans to Help Bail Out Zimbabwe - Finance Minister Mboweni

Daily Maverick, 21 January 2019

South Africa is planning to extend short-term credit to Zimbabwe and also to help it write off its US$7.4-billion external debt, to prevent its neighbour spiralling out of control.… Read more »

Zimbabwe: NGOs Deny They Have 'Regime Change Agenda'

New Zimbabwe, 21 January 2019

CIVIL society organisations have rejected government allegations that they are working with the opposition to push a a regime change agenda aimed at unseating President Emmerson… Read more »

Zimbabwe: Zanu-PF Offices Burnt Down, Member's Business Looted

New Zimbabwe, 21 January 2019

SEVERAL Zanu PF properties in Bulawayo were targeted with several burnt down during last week's nationwide protests against a steep hike in the price of fuel as well as the general… Read more »

Zimbabwe: Crackdown a Taste of What's Coming - President's Spokesman

New Zimbabwe, 20 January 2019

THE deadly military and police crackdown against protestors over the past week which left at least 12 people dead was just a "foretaste of things to come", President Emmerson… Read more »

Zimbabwe: 'Even Mugabe Never Shut Internet Down'

New Zimbabwe, 21 January 2019

Senior opposition politicians and former cabinet ministers have accused the government of using an "unprecedented and illegal" internet shutdown imposed last week to hide the… Read more »

Zimbabwe: After Global Outrage, Army, Police Blame Deserters for Killings

New Zimbabwe, 19 January 2019

THE country's under-fire security services claimed Saturday that deserters and criminals in stolen military uniforms were behind this past week's murderous mayhem as international… Read more »
InFocus
As his government orders another nationwide Internet shutdown, ignoring local and global condemnation of its brutal crackdown against protestors, President Emmerson Mnangagwa ... Read more »

Since he took over power, President Emmerson Mnangagwa and other high-level government officials made numerous promises to deliver governance reforms to mark the post-Mugabe era, ... Read more »

Zimbabwe's government has restored internet services in the country but social media sites remain blocked. This follows violent demonstrations over a steep rise in the price of ... Read more »