Africans Angry at Western Media Coverage of Ethiopian Plane Crash
Tragedy is a human experience that no one can escape from. Yet the manner in which Western media report on death involving Africans remains infused with racism. Reporting on the Ethiopian Airline flight ET302 crash has proven to be no exception, writes Socrates Mbamalu in This is Africa.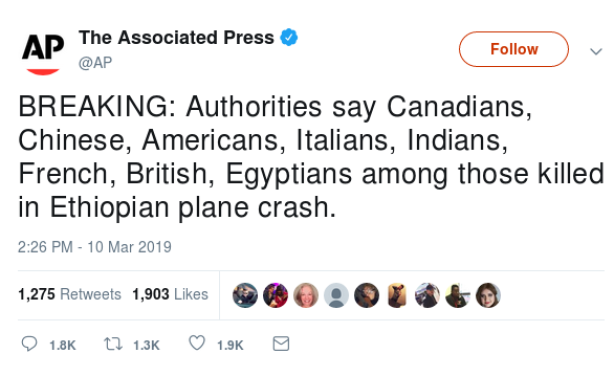 The Associated Press tweet about the Ethiopian Airlines plane crash.
Africa: AP - This Is Why We Didn't Mention Kenya, Ethiopia in Our Tweet On Crash

Nairobi News, 15 March 2019

The Associated Press (AP) has explained why they did not mention Kenya and Ethiopia in a viral tweet that reported on the nationalities of the victims of the Ethiopian Airlines… Read more »

East Africa: Kenyans Hit Out at Associated Press Tweet on Plane Tragedy

Nairobi News, 12 March 2019

Kenya suffered the highest casualties in the Ethiopian Airlines Boeing 737 plane crash on Sunday, but somehow a leading American media outlet didn't consider the grim… Read more »

Ethiopia: Viral Video Does Not Show Final Moments Before Ethiopian Airlines Crash

Africa Check, 12 March 2019

Early on Sunday 10 March 2019, an Ethiopian Airlines Boeing 737 MAX 8 crashed soon after taking off from Addis Ababa's Bole International Airport. All 157 people on board, headed… Read more »

Ethiopia: Western Press Still Guilty of Bias When Reporting On African Tragedy

This is Africa, 11 March 2019

The racism inherent in Western media's reportage of African tragedy, such as the Ethiopian Airline disaster, once again shows how important it is for Africans to support their own… Read more »

Kenya: Ethiopian Crash - the Fake Photos That Went Viral in Social Media

Nation, 11 March 2019

As news on the crashed Ethiopian Airlines plane trickled in, social media users shared photos of what they perceived to be the plane and the crash scene of flight ET 302. Read more »