What You Need to Know About the Battle for Tripoli
General Khalifa Haftar's push for Tripoli could be the most important moment for Libya since the overthrow of Moammar Gadhafi in 2011. Who are the players and what's at stake for the war-torn country? Deutsche Welle finds out more.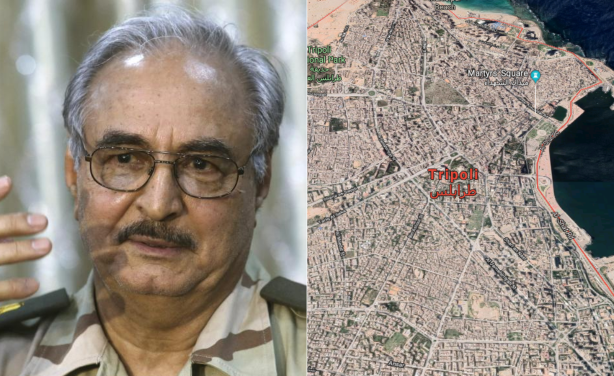 Left: General Khalifa Haftar. Right: Aerial view of Tripoli.
Libya: France Rejects Libya's 'Unfounded' Claim It Supports Militia Leader Khalifa Haftar

Deutsche Welle, 18 April 2019

Libya has halted security cooperation with France after accusing Paris of supporting military strongman Khalifa Haftar. France has denied the claims, insisting it wants a political… Read more »

Libya: Who Will Help the 600,000 Migrants and Refugees in Libya?

The New Humanitarian, 18 April 2019

As Libya once again slides towards civil war, the European Union may not be able to turn a blind eye towards the more than 600,000 migrants and refugees in the country. Read more »

Libya: Death Toll in Libya Fighting Continues to Rise - UN

Deutsche Welle, 19 April 2019

The UN's health says at least 213 people have now died in two weeks of fighting near the Libyan capital, Tripoli. The WHO has called on warring parties to avoid civilian deaths. Read more »

Libya: Germany Calls for UN Security Council Meeting

Deutsche Welle, 18 April 2019

The council has failed to agree on a joint call for a ceasefire in Tripoli, where rival militias have been fighting for two weeks. Germany, the current council president, has… Read more »

Libya: Migrants Under Threat As Battle for Tripoli Sets in

Deutsche Welle, 16 April 2019

Migrants locked in detention camps in Tripoli face increasing danger as the prospect of a drawn-out siege looms. Inconsistent responses from Europe to the crisis have left them… Read more »

Libya: Libya Stands At a 'Critical Juncture', UN Mission Head Tells Security Council

UN News, 20 March 2019

Predicting that the "days ahead will prove foundational to the years ahead for Libyans and the region", the top United Nations official in the country told the Security Council on… Read more »