South African Voters Voice Apathy Ahead of National Elections
Merafe Hostel residents in Soweto have said that voting will make little to no difference, describing the youth of the area as "damaged goods" who have to resort to sex work and theft to make a living. Meanwhile, a silent protest in Vuwani, Limpopo will see the disgruntled residents avoid the polls due to decisions made by the area's municipality. President Cyril Ramaphosa has also appealed to KwaZulu-Natal voters to not "punish" the ruling African National Congress at the national elections due to lack of service delivery.
South Africa: My ID Shows How Many Times I've Voted, but I Have Nothing to Show for It - Mthatha Man Tired of Empty Promises

News24Wire, 26 April 2019

"My ID book is full of stickers from the IEC to show that I have been voting since we were allowed to, but I have nothing to show for trusting the ruling party with my vote." Read more »

South Africa: Uncertainty Grips Voters in Highly Contested Limpopo

Daily Maverick, 23 April 2019

For party loyalists, the question of who to put your mark next to on the ballot is a no-brainer, but for residents in Polokwane, as with the rest of the country, this has become a… Read more »

South Africa: Mbeki Campaigns for the ANC, Saying the Party Has Recognised It Made Mistakes

News24Wire, 23 April 2019

Former president Thabo Mbeki says it would have been dishonest of him to campaign for the ANC in previous years while it was "veering off course". Read more »

South Africa: Searching for Undecideds and 'Why Vote At Alls', ANC, DA and IFP Find Discontent Grows Deep

Daily Maverick, 23 April 2019

With the 8 May elections approaching fast, political parties ramped up campaigning in KwaZulu-Natal. The ANC, IFP and DA spent the long weekend heading into communities, hoping to… Read more »

South Africa: 'Politicians Remain Politicians and They Will Never Take Us Seriously' - Jobs, Education Key in Limpopo

News24Wire, 23 April 2019

In 2014, Limpopo was unmistakably black, green and gold because it was there that the ANC recorded its most decisive victory of the eight provinces it won in that year's elections. Read more »

South Africa: The ANC Has Been in Power Forever, but Hostel Life Remains Unchanged - Merafe Residents

Daily Maverick, 23 April 2019

Merafe Hostel residents in Soweto are preparing to cast their vote on 8 May, but wonder what difference it will make to the conditions under which they live. Many don't have much… Read more »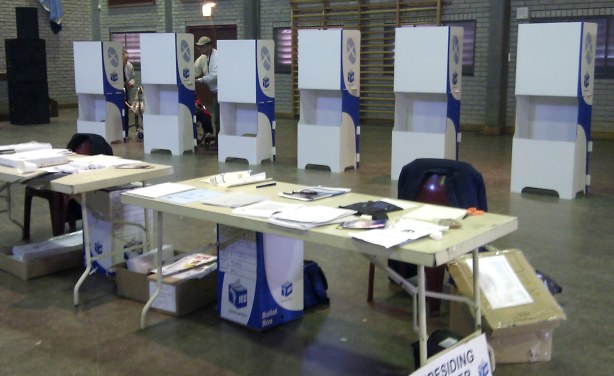 IEC voting station (file photo).
InFocus
48 parties will be represented at this year's national elections, 19 more than those of 2014, the Independent Electoral Commission has said. Read more »

South Africa's Julius Malema, leader of the opposition Economic Freedom Fighters,has launched his party's 166-page manifesto ahead of the general elections to be held in May 2019. ... Read more »

Speaking at the Royal Cape Yacht Club, Patricia de Lille has announced the leadership of her GOOD party which she hopes will "lead the movement to success in the elections". ... Read more »