Five Key Takeaways from #AFCON2017
From the splendid goals, sensational and awful performances, the tears of sorrow and joy and the poor pitches, it is evident how the just ended Africa Cup of Nations tourney was worthwhile. Writing for AllAfrica, Nick Said picks out five lessons we learned in Gabon.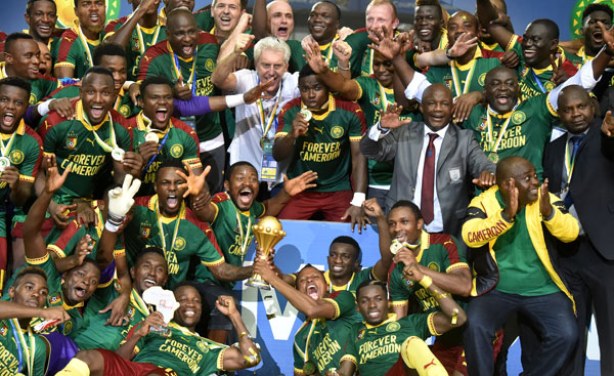 Cameroon team players and Cameroon's Belgian coach Hugo Broos (C) celebrate after beating Egypt 2-1 to win the 2017 Africa Cup of Nations final.
Africa: The Best to Find Net at #Afcon2017 So Far...

allAfrica, 27 January 2017

Despite the poor quality of the pitches and, at times, dour football, there were some spectacular goals scored in the first round of the African Nations Cup finals in Gabon. Read more »

Africa: Woeful Football Pitches Lead to #AFCON2017 Controversy

allAfrica, 24 January 2017

The relatively high number of injuries at this year's African Nations Cup finals has coaches fretting and Ghana's Avram Grant says he knows what is to blame - the poor pitches in… Read more »

Africa: Africa Cup of Nations Pantheon of Heroes

allAfrica, 21 January 2017

The African Nations Cup finals have often been the platform for heroes to be born and reputations made in their 60-year history. Read more »

Africa: Are Players Finding the Net Often Enough at Afcon 2017?

allAfrica, 17 January 2017

Much has been made of the low number of goals after the opening round of group phase matches at the 2017 African Nations Cup, with teams accused of being too cautious and too… Read more »

Africa: Five Afcon Stars Who Ditched Europe

allAfrica, 17 January 2017

It used to be that African-born players were clamouring to feature for European nations, with the continent losing a steady stream of stars that would otherwise bolster their… Read more »

Africa: Five Key Takeaways from AFCON2017

allAfrica, 7 February 2017

The 2017 African Nations Cup finals are a thing of the past, and Cameroon were crowned worthy winners with their final victory over Egypt on Sunday. Read more »