Death Toll in Tanzania's Ferry Tragedy Nears 200
President John Magufuli has ordered an intensive crackdown on all officials responsible for the management of the boat MV Nyerere that capsized between Bugolora and Ukara Island in Lake Victoria, claiming the lives of close to 200 people and injuring many others. He has also commissioned for detailed investigations to see if the vessel had other reasons that caused it to capsize apart from overloading.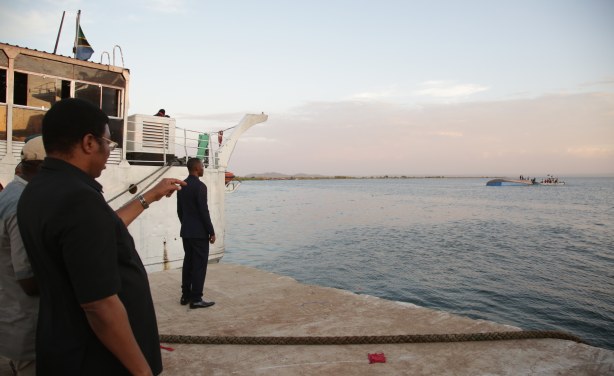 Prime Minister Kassim Majaliwa at the accident scene.
Nigeria: Buhari Consoles Tanzania Over Ferry Disaster

Daily Trust, 22 September 2018

President Muhammadu Buhari yesterday commiserated with President John Magufuli and the people of Tanzania over the tragic MV Nyerere ferry disaster in the south of Lake Victoria… Read more »

Tanzania: UN Sends Condolences to Govt, Relatives of Families Perished in Ukerewe Ferry Tragedy

Citizen, 21 September 2018

The Secretary-General Antonio Gutirezi has Extend his condolences to Tanzania government and the families of people who perished in a ferry disaster in Ukererewe in Lake Victoria… Read more »

Tanzania: Magufuli Orders Arrest of Ferry Operators, Sumatra Officials

Citizen, 21 September 2018

President John Magufuli yesterday ordered the arrest and questioning of all officials involved in supervision and operation of the capsized ferry, including Sumatra officers in… Read more »

Tanzania: Magufuli - The Person Steering MV Nyerere Ferry Was Un-Trained

Citizen, 21 September 2018

It has emerged that the captain of MV Nyerere, a ferry, which capsized on Thursday in Lake Victoria killing over 130 people, wasn't in the ferry, when it capsized. Read more »

Tanzania: PM Cancels Dodoma Tour, Heads to Ukerewe Following Ferry Disaster

Citizen, 21 September 2018

Prime Minister Kassim Majaliwa has postponed his tour of Dodoma Region and instead headed to Ukerewe in Mwanza Region to join mourners following the loss of over 120 people in the… Read more »
InFocus
At least 100 people were killed when a passenger ferry capsized on the southern end of Tanzania's Lake Victoria, and scores were still missing on Friday as rescue efforts ... Read more »

At least 37 people died and 40 others were rescued after the ferry MV Nyerere capsized and sank in Lake Victoria, Tanzania's The Citizen reports. Read more »