Internet Restored in Zimbabwe As President Calls for Talks
President Emmerson Mnangagwa has called for a national dialogue with opposition parties and religious and civic leaders. Mnangagwa had been due to attend the World Economic Focum in Davos but broke off his trip to return home. Writing on Twitter - just after the country's high court ordered the government to restore internet access - Mnangagwa said the controversial decision to raise the fuel price had not been taken lightly.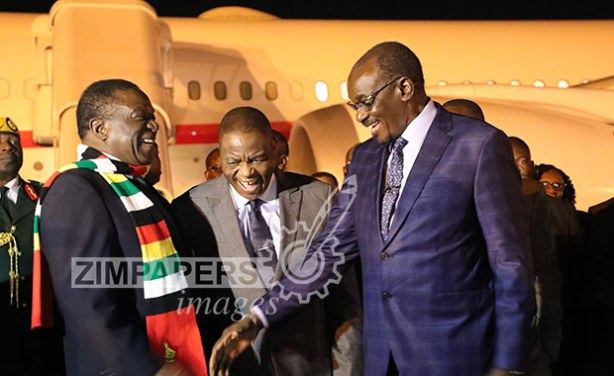 President Emmerson Mnangagwa with his deputies Constantino Chiwenga and Kembo Mohadi on his arrival at Robert Gabriel Mugabe International Airport.
Southern Africa: SADC Lawyers Blast Vicious State Crackdown On Protests

New Zimbabwe, 22 January 2019

A regional lawyers group has both condemned and urged a stop to the Zimbabwean authorities' vicious crackdown on alleged instigators and perpetrators of last week's deadly… Read more »

Zimbabwe: Mnangagwa Condemns Military Crackdown

263Chat, 22 January 2019

Hours after his arrival from his one week visit to the Eurasian countries, President Emmerson Mnangagwa has condemned military crackdown on protesters and violence that obtained in… Read more »

Zimbabwe: Mnangagwa Calls for Dialogue

263Chat, 22 January 2019

President Emmerson Mnangagwa has succumbed to pressure from ordinary Zimbabweans and has called for a national dialogue with opposition parties, religious leaders as well as civic… Read more »

Zimbabwe: Govt, Zanu-PF Officials Used Alternative Social Media

New Zimbabwe, 22 January 2019

Several top government officials who have defended a government freeze on the cyberspace were found scrambling to join ordinary Zimbabweans who had signed up to alternative… Read more »

Zimbabwe: Full Text - ED Calls for National Dialogue

263Chat, 22 January 2019

"One week ago, I announced measures to stabilise our nation's crucial fuel supply. I was aware that these measures may not be popular, and this was not a decision we took lightly.… Read more »

Zimbabwe: President Returns Home

The Herald, 22 January 2019

President Mnangagwa returned last night from a successful four-nation tour of Eurasia that resulted in the signing of a raft of economic agreements as well as laying the foundation… Read more »

Zimbabwe: Service Providers Restore Full Internet Services

The Herald, 22 January 2019

THE High Court in Harare yesterday ruled that National Security Minister Owen Ncube had no authority to order a shutdown of Internet services. Service providers immediately… Read more »

Zimbabwe: Fantasy That Mnangagwa Would Fix Zimbabwe Now Fully Exposed

The Conversation Africa, 22 January 2019

As of January 18, more than 12 people had died, no less than 78 had suffered gunshot injuries, and at least 240 had been beaten and tortured by the Zimbabwean state. More than 466… Read more »

Zimbabwe: High Court Orders Govt to Restore Internet Access

Deutsche Welle, 21 January 2019

Zimbabwe's government has been ordered to restore access to online programs like Facebook, Whatsapp, and Twitter. The government had blocked internet access as part of a widespread… Read more »

Zimbabwe: What Needs to Be Done to Stop Zimbabwe's Violent Meltdown

The Conversation Africa, 21 January 2019

Zimbabwe is sliding into a violent meltdown and it's expected to worsen, unless there are some serious interventions. Read more »

Zimbabwe: The Horror Behind Zimbabwe's Internet Shutdown

Ilizwi263, 21 January 2019

I think of how famished for hope we were last year that most of us caressed the scars of Mugabe's noose on our strained necks and tucked the red razors of our bloody past - unpast… Read more »

Zimbabwe: Facebook, Whatsapp, Twitter Back After Week-Long Zim Blackout

New Zimbabwe, 21 January 2019

SOCIAL media sites have finally been restored in Zimbabwe following a week-long government blackout which drew out a high court challenge and a subsequent Monday ruling declaring… Read more »
InFocus
Anti-government activists in Zimbabwe have called for a second, and this time five-day, shutdown protest beginning on Monday, prompting the administration to warn that "we will not ... Read more »

If President Cyril Ramaphosa fails to stop the "ongoing human rights violations" on Zimbabweans, allegedly by president Emmerson Mnangagwa's government, opposition party the ... Read more »

As his government orders another nationwide Internet shutdown, ignoring local and global condemnation of its brutal crackdown against protestors, President Emmerson Mnangagwa ... Read more »